Daily Comment (August 6, 2021)
by Bill O'Grady, Thomas Wash, and Patrick Fearon-Hernandez, CFA
[Posted: 9:30 AM EDT] | PDF
Good morning, all!  U.S. equities appear to be headed for a flat open this morning.  We begin with a discussion about the effect the new variant may have on the recovery.  Our international news coverage includes escalating tensions between Israel and Lebanon and India's removal of a controversial tax.  U.S. economics and policy news are up next, with details about the infrastructure bill.  China news follows, and we will end with our pandemic coverage.
State Labor Force: As new COVID-19 cases spread throughout the country, there may be a glimmer of hope that the recovery will not be significantly affected.  Although infections are rising throughout the U.S., most of this increase has been concentrated within the Southern region.  Average daily cases per 100,000 in the South are almost double its nearest competitor.  Despite the increase in cases, the political situation in the South makes the likelihood of new restrictions doubtful.  As a result, this region should remain relatively stable regardless of the rise in infections.  Additionally, the fact that southern states have the lowest vaccination rates compared to the rest of the country suggests that hospitalization rates will likely be manageable for other parts of the country.  Hence, the chances of another lockdown are relatively small.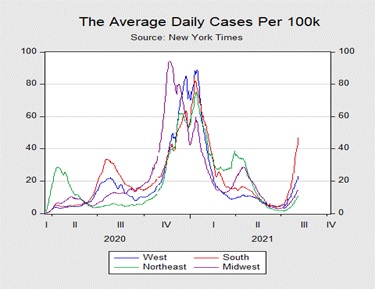 Despite having higher infection rates, the South has seen a faster labor force recovery than its peers.  As of June, the labor force in the Southwest and Southeast regions has returned to their January 2020 levels.  Although there have been new restrictions imposed in certain states, most notably in New York, it should be worth noting that these states are more prepared than they were in December of last year when the country saw a similar uptick in cases. We believe that although the employment data may be relatively weak in the coming months, the impact of the variant on the labor market, as well as the broader economy, may not severely derail the recovery.  That being said, the spread will likely not ease concerns of potential workers who are sitting out of the labor market until the pandemic is better controlled.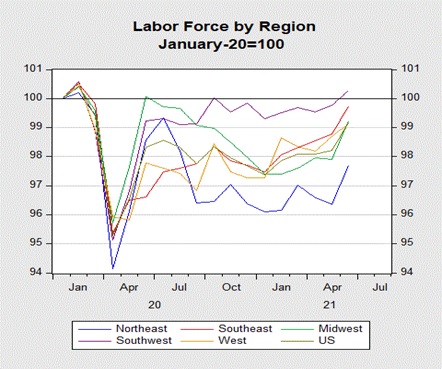 International news: 
Economics and policy:
China:
COVID-19:  The number of reported cases is 200,939,775 with 4,267,859 fatalities.  In the U.S., there are 35,440,509 confirmed cases with 615,320 deaths.  For illustration purposes, the FT has created an interactive chart that allows one to compare cases across nations using similar scaling metrics.  The FT has also issued an economic tracker that looks across countries with high-frequency data on various factors.  The CDC reports that 403,047,945 doses of the vaccine have been distributed, with 348,966,419 doses injected.  The number receiving at least one dose is 193,199,353, while the number of second doses, which would grant the highest level of immunity, is 165,637,566.  The FT has a page on global vaccine distribution.