Daily Comment (August 30, 2023)
by Patrick Fearon-Hernandez, CFA, and Thomas Wash
[Posted: 9:30 AM EDT] | PDF
Our Comment today opens with U.S. news, including yesterday's blockbuster court decision that boosted cryptocurrency prices and a couple of words on the labor market data that boosted stocks.  We next review a wide range of other international and U.S. developments with the potential to affect the financial markets today, including signs of sticky inflation in Europe and yet another coup in Africa.
U.S. Cryptocurrency Regulation:  A federal court yesterday ruled that the SEC acted unreasonably when it rejected an application by Greystone Investments to launch an exchange-traded fund based on spot Bitcoin.  The ruling invalidates the SEC's effort to force cryptocurrency funds to invest only in futures, which would be traded on U.S.-regulated exchanges.
Even though the SEC could still decide to appeal to the Supreme Court, the ruling allowing the formation of spot-Bitcoin ETFs is expected to spur a major increase in the demand for cryptocurrencies.
As a result, Bitcoin and other cryptocurrencies jumped in value yesterday, with Bitcoin alone up approximately 7.7% to $27,970.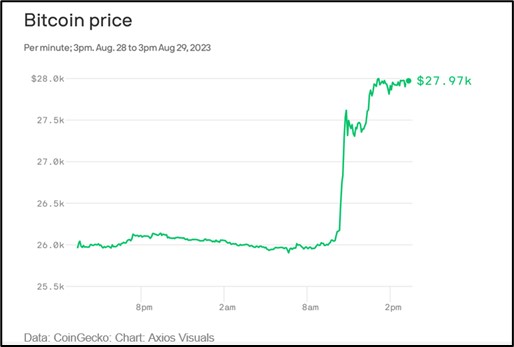 U.S. Trade Policy:  Following up on former President Trump's recent call for a 10% tariff against all imports, there are signs the other declared Republican presidential candidates are swinging to the same view.  The sentiment is especially negative towards China, where several top politicians have called for rescinding permanent normal trade relations with the country and boosting domestic manufacturing through protectionist policies ranging from tariffs and import barriers to subsidies.
While it's widely recognized that there is already broad, bipartisan support among centrist Republicans and Democrats for a bigger defense budget and a stronger response to China's geopolitical aggressiveness, it now appears that industrial protectionism is becoming another area of bipartisan agreement, at least as it relates to China.
One key question is whether U.S. protectionist policies will be applied broadly, even against the U.S.'s key allies and other members of its geopolitical bloc.

Tariffs and other policies applied against Washington's allies would threaten to weaken the U.S. bloc and potentially spark a global, chaotic trade war marked by an "every man for himself" attitude. It could also drive some U.S. allies or potential allies into a closer economic relationship with China.
In contrast, sparing U.S. allies would help preserve Washington's key economic leverage over China. As shown in the chart below, over 10% of Chinese gross domestic product comes from exporting to the overall U.S.-led bloc, making it imperative to maintain the bloc's unity and coordination versus Beijing.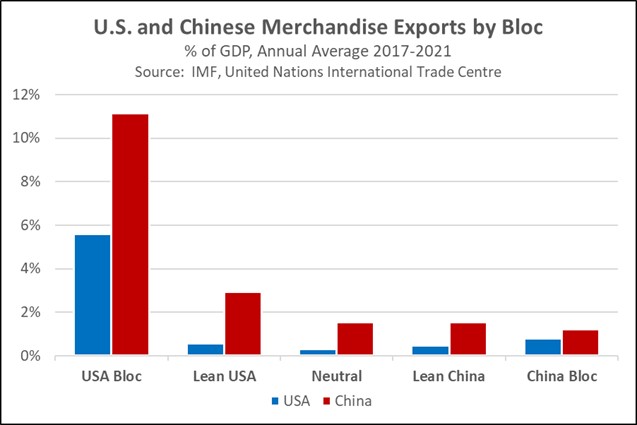 U.S. Labor Market:  In the Job Openings and Labor Turnover Survey released yesterday, July vacancies came in at a seasonally adjusted 8.8 million, well below expectations and down from 9.2 million in June.  That means the ratio of job openings to unemployed workers has now fallen to 1.5, far below the roughly 2.0 seen early last year.  In turn, that suggests the demand for labor continues to cool, raising the prospect for slower wage growth, reduced inflation pressures, and a potential end to the Federal Reserve's interest-rate hikes.  The data release goes far toward explaining the big jump in stock prices yesterday.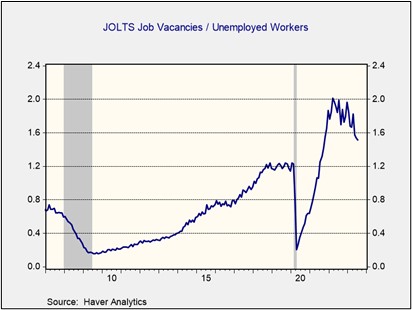 U.S. Commercial Real Estate Market:  The Wall Street Journal today has a useful story looking at various indicators of where the commercial real estate industry is headed.  For example, the story notes that publicly traded property stocks are currently trading at about a 10% discount to their gross asset values—a decent proxy for the size of the price falls that investors still expect in private real-estate values.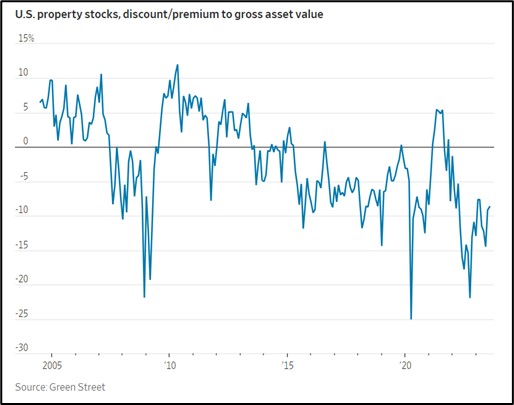 U.S. Weather:  Hurricane Idalia, now a Category 3 storm, has made landfall this morning in northwestern Florida.  Some 30 counties in the state are under evacuation orders, and damage is anticipated to be extensive.  Travel is also likely to be disrupted throughout the region.  We expect to provide more details on any economic impact from the storm in our Comment the rest of the week.
Eurozone:  New data shows price pressures remain high.  In Spain, the August consumer price index was up 2.4% from the same month one year earlier, accelerating from the gains of 2.1% in the year to July and just 1.6% in the year to June.  Excluding the volatile food and energy components, the August "core" CPI re-accelerated to show a rise of 5.9% on the year.  Meanwhile, in the key German state of North Rhine-Westphalia, the August CPI was up 5.9% year-over-year, accelerating from 5.8% in July.  The figures suggest that overall eurozone inflation data will be worrisome enough to prompt the European Central Bank to hike interest rates further in September.
China-India:  The Indian government lodged a formal protest against China for releasing a new "standard map" that shows Indian territory as part of China.  The two countries have long had territorial disputes along their poorly demarcated border in the Himalaya Mountains, but the frictions have worsened since a bloody clash between Chinese and Indian troops in the area in 2020.  The frictions are a key reason why India has been reluctant to join the China/Russia geopolitical bloc and is instead becoming close to the U.S. and its bloc.
Russia-Ukraine War:  Overnight, Ukrainian forces evidently used swarms of drones to attack military targets across Russia and were able to damage or destroy several aircraft at an air force base near the city of Pskov.  That is just the latest Ukrainian attack to successfully damage some of Russia's powerful, expensive aircraft, illustrating how the Ukrainians continue to develop their own brand of "asymmetric" warfare.  The Ukrainian successes may not necessarily bring about its key goals in the war, but they will help to further degrade the Russian military.
Gabon:  Following closely on the recent coup in Niger, military officers in the central African nation of Gabon have staged a coup and toppled the country's recently re-elected president.  The former French colony is a member of the Organization of the Petroleum Exporting Countries, but it is not one of OPEC's major oil producers.
Guatemala:  Electoral authorities on Monday evening suspended the center-left Seed Movement of President-elect Bernardo Arévalo, potentially preventing the party's legislators from taking their seats in Congress and hamstringing Arévalo's administration.  The party has appealed to a higher court, but it is not clear whether they will be successful, given that their focus on fighting corruption threatens many of Guatemala's vested interests.