Daily Comment (August 3, 2022)
by Patrick Fearon-Hernandez, CFA, and Thomas Wash
[Posted: 9:30 AM EDT] | PDF
Our Comment today opens with an update on the Russia-Ukraine war, including a revelation that President Biden has personally threatened Chinese President Xi with trade restrictions if China helps Russia with its invasion.  We next review a wide range of other international and U.S. developments with the potential to affect the financial markets today, with a specific focus on House Speaker Pelosi's now-completed trip to Taiwan and its impact on U.S.-China relations.
Russia-Ukraine: Russian forces continue to make small territorial gains around Ukraine's northeastern Donbas region while shifting some troops to defend against the Ukrainians' counteroffensive against the occupied southern city of Kherson.  Officials in Moscow have also ramped up their false claims of destroying multiple HIMARs systems and other weapons provided by the West, most likely in an effort to thwart rising exasperation from Russian military bloggers.  Not only have the Western weapons discouraged those bloggers and other Kremlin supporters, but Western intelligence analysis believe they are also causing significant casualties among Russian troops.  Other reports say Iran has provided its first batch of military drones to Russia for field testing.
United States-Taiwan-China: Undeterred by China's threats and President Biden's misgivings, yesterday House Speaker Pelosi landed in Taiwan on a trip designed to underscore the U.S.'s support for the island democracy.  Pelosi's trip, which included a long, circuitous route from Kuala Lumpur across Borneo and around the Philippines to avoid flying over Chinese military facilities in the South China Sea, immediately spurred a series of protests by Beijing.  The Chinese government also sent more fighter aircraft into the Taiwan Strait and announced further live-fire military exercises in the six zones surrounding the island.  China also temporarily halted most food imports from Taiwan.
As of this writing, China's response to the Pelosi visit has been tough and high-profile, but not necessarily over-the-top.  However, the full extent of the retaliation may not be known for days or even weeks.  One concern is that China has told commercial ships and air carriers to stay out of its six military-exercise zones surrounding Taiwan.  If kept in place, those no-sail/no-fly zones could become a soft blockade on the island, potentially threatening to strangle it.
On Pelosi's side, we've noticed that there's been little explanation as to why she chose to make such a provocative trip right now.  One obvious explanation would be to show the Democratic Party is just as tough on China as the Republican Party.  Thwarting China's geopolitical aggressiveness is now a solidly bipartisan effort in the U.S., but Pelosi may have wanted to underscore the Democrats' anti-China credentials just two months before the mid-term elections.  Besides, Pelosi knows that the impact of her trip would be greatest if she is still Speaker, a position she will give up in just a few months if the Democrats lose control of the House as expected.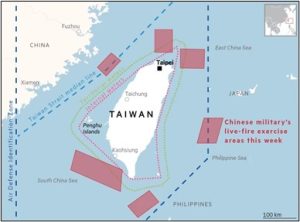 United States-China: Illustrating how political and economic considerations continue to fracture the world into relatively separate blocs, the recently-passed U.S. Chips and Science Act is already prompting major foreign technology firms to consider abandoning their investments in China in favor of closer ties with the U.S., as intended.
Until now, reporting on the Chips and Science Act has focused on its $52 billion in subsidies to encourage investment in advanced computer chip factories in the U.S., as well as hundreds of billions of dollars in other science and technology funding. Less noticed, however, is that the bill also contains qualified "guardrails" prohibiting recipients of the funds from expanding or upgrading their advanced chip capacity in China for 10 years.
Reporting in the Financial Times today says South Korean semiconductor producers Samsung Electronics (005930.KS, ₩61,300.00) and SK Hynix (000650.KS, ₩97,500.00) are re-evaluating their operations in China and may abandon them so as not to run afoul of the guardrails in the U.S. legislation.
U.S. Monetary Policy: Yesterday, a slew of regional Federal Reserve presidents made statements suggesting that the policymakers intend to keep hiking interest rates aggressively, despite recent investor expectations that they might soon pivot to rate cuts as recession risks grow.  The statements pushed up bond yields yesterday, and those yield increases are continuing so far this morning.  In the statements:
Chicago FRB President Evans said he expects the Fed to hike its benchmark short-term interest rate by 50 bps at its next meeting in September but wouldn't rule out another big 75 bps hike if inflation doesn't look like it's receding.  After that, Evans said he hoped the Fed could return to the more traditional 25 bps hike at the last two policy meetings of 2022.
Separately, Cleveland FRB President Mester warned against prematurely declaring victory over inflation.  According to Mester, the Fed should keep hiking rates until it sees several months of cooling inflation.
Finally, San Francisco Fed President Mary Daly said the central bank's effort to bring down prices by slowing demand was nowhere near done.  Moreover, she poured cold water on the idea that the Fed could pivot to rate cuts next year, saying the next change would likely be to just hold rates steady for an extended period.
U.S. Retail Gasoline Market: According to data provider OPIS, the average price for a gallon of regular unleaded gasoline sank to $4.19 yesterday, marking the 49th straight day that gas costs have declined in the U.S.  Prices are now down 16.5% from their most recent high of $5.02 per gallon on June 14.
Global Energy Markets: The Organization of the Petroleum Exporting Countries and its allies today agreed on a modest boost in crude oil production.  Beginning in September, the OPEC+ members said they will boost output by a collective 100,000 bpd, on top of the increase of 648,000 bpd previously announced for July and August.
The small boost is probably at least a partial response to President Biden's controversial rapprochement with Saudi Arabian Crown Prince Muhammed Bin Salman.
However, the small increase is expected to have little impact in bringing down prices.  The recent price declines for oil can be tied more tightly to factors like demand destruction from the high prices earlier in the summer and slowing demand growth as economies respond to interest-rate hikes by the world's central banks.
Global Cryptocurrency Markets: In yet another blow to the budding cryptocurrency markets, an apparent cyberattack drained thousands of digital wallets linked to the Solana blockchain.  Along with recent crypto frauds, bankruptcies, and other scandals, cyber thefts like the one at Solana will undermine digital currency promoters' assertions about the assets being secure, even as the digital currencies face growing regulatory risk.
Netherlands: As the country breaches its legal limits on nitrogen emissions, the government has sparked broad farmer protests with a plan to reduce Dutch livestock populations by one-third through buyouts and other incentives.  Since June, the farmers' protests have included picketing supermarket distribution centers, blockading roads, airports, and train stations, and even dumping slurry at the home of the minister in charge of the program.