Daily Comment (August 29, 2022)
by Patrick Fearon-Hernandez, CFA, and Thomas Wash
[Posted: 9:30 AM EDT] | PDF
Our Comment today opens with an update on the Russia-Ukraine war, where a key focus is now on the risks to a major nuclear energy plant in eastern Ukraine.  We next review a wide range of other international and U.S. developments with the potential to affect the financial markets today, including a few additional words on Federal Reserve Chair Powell's speech at the Jackson Hole symposium on Friday.
Russia-Ukraine:  Depleted and combat-weary forces from both Russia and Ukraine continue to make only the most minimal territorial advances along their front lines, although both sides continue to use long-range missile and artillery strikes to weaken the other side.  Notably, shelling continues in the area around the Zaporizhzhia nuclear power plant, with both sides accusing the other of putting the plant in danger.  Meanwhile, media reports say a newly formed 3rd Army Corps composed of recent volunteers from around Russia is now ready to deploy to Ukraine with highly advanced weaponry, although analysts are doubtful that the quickly trained troops will be competent enough to turn the tide of the war.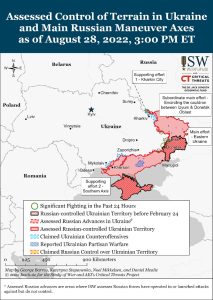 Today, the UN's International Atomic Energy Agency is due to send a team to the Zaporizhzhia nuclear plant to assess its condition.  Led by IAEA Chief Rafael Grossi, the team will also check safety and security systems and evaluate staff conditions.
On the energy front, the CEO of Shell (SHEL, $54.88) warned that Europe's energy crisis will last several years at least, even if it gets through this winter.  According to the executive, "It may well be that we have a number of winters where we have to somehow find solutions through efficiency savings, through rationing, and a very, very quick buildout of alternatives."

With Europe facing extremely high energy prices, rationing, and increased interest rates, investors continue to push down the euro.  Investors also continue to bet on further depreciation in the common currency, with net short positions against the euro now at their highest level since the start of the coronavirus pandemic in early 2020.
The euro is staging a very modest rebound so far this morning, but it remains below par with the dollar at just $0.9996.
China-Solomon Islands-United States:  Earlier this month, The U.S. Coast Guard said the Solomon Islands failed to respond to an official request for one of its cutters to make a routine port call for replenishment, forcing the vessel to make its port call in Papua New Guinea.
The refusal to grant permission to dock could be related to a secretive new security agreement struck between China and the Solomon Islands earlier this year.
The incident suggests China may be requiring the Solomon's government to distance itself from the U.S.  In return, China could support Solomon's President Sogavare in his effort to delay his country's next elections and stay in power.
In any case, the matter illustrates how the South Pacific islands are becoming a key theater in the U.S.-China rivalry.  It also highlights how countries around the world are being pressured to ally themselves with either the U.S. or China.
United Kingdom:  In the race to succeed Boris Johnson as Conservative Party leader and prime minister, front-runner Liz Truss, the current foreign minister, is coming under increased pressure to outline her plan to support British families facing enormous energy bills this winter.  Truss has tried to hold the line against providing new cash "handouts," preferring to provide tax cuts instead, but the opposition Labor Party is hammering her for the way that plan could provide outsized benefits to upper-income Brits.
Serbia-Kosovo:  Over the weekend, Serbia and Kosovo reached a deal to resolve administrative hurdles both sides had slapped on their neighbor's citizens or threatened to do so.  Serbia agreed to abolish entry/exit documents for Kosovo ID holders and Kosovo agreed not to introduce them for Serbian ID holders.  The deal diffuses a flashpoint that could have spiraled into violence just as Europe is already dealing with the war in Ukraine.
Pakistan:  The Pakistani government says it has now secured the $37 billion in loans and investments needed to secure an additional $4 billion loan from the IMF to cover its budget shortfall for the current fiscal year.  IMF officials today will vote on approving the deal.  Securing the new funding means Islamabad now has pushed off the threat of a near-term default, although it still faces financial risks in the medium term because of issues like its fractious political dynamics and recent flooding.
Brazil:  Last night, current right-wing populist President Bolsonaro and leftist former President Lula da Silva squared off in their first debate ahead of this fall's presidential elections, along with four minor candidates.  Bolsonaro has recently been trailing da Silva badly in the polls, but press reports suggest he landed a few blows by painting the former president as corrupt.  Meanwhile, da Silva stressed how good Brazil's economy had been under his administration.
U.S. Monetary Policy:  In his keynote address at the Kansas City FRB's annual conference in Jackson Hole, Wyoming, on Friday, Fed Chair Powell poured buckets of cold water on the idea that U.S. monetary officials would pivot to easier policy anytime soon.  Powell not only signaled that the Fed will keep raising rates until they are high enough to restrain economic growth but will hold them there until inflation pressures come down significantly, even at the risk of pushing the economy into recession.  Isabel Schnabel, the German member of the European Central Bank's executive board, drove home the point in her speech on Saturday.  According to Schnabel, the cost of inflation is so high that central banks must act decisively to stop it, without fear of causing a recession.
The speech sparked a sizable pullback in risk assets on Friday, and we suspect it could continue to weigh on stock prices in the near term.
Indeed, stock futures are down approximately 1% at this writing, and the 10-year Treasury note has risen to a two-month high of 3.116%.
U.S. Energy Policy:  The California legislature this week is set to vote on whether to extend the life of the state's sole remaining nuclear generating station beyond its planned closure in 2025.  Governor Newsome has recently reversed course and called for extending the life of the plant amid rising electricity demand and reduced availability of electricity from other sources, such as hydroelectric.  A vote in favor of keeping the plant open would add to the recent momentum toward nuclear power not only in the U.S. but globally.
U.S. Space Program:  Earlier today, NASA was forced to temporarily scrub the planned launch of its Artemis I rocket for a trip to the moon, based on unresolved problems with the rocket's engines.  Getting the program back on track would help ensure the continuance of the program, along with hefty revenue streams to its major aerospace contractors, even though it has been criticized for its cost.