Daily Comment (August 26, 2022)
by Patrick Fearon-Hernandez, CFA, and Thomas Wash
[Posted: 9:30 AM EDT] | PDF
Good morning! Today's Comment examines why Thursday's economic data could encourage the Fed to raise rates more aggressively. Next, we explain how elections in Russia could impact its war with Ukraine. We conclude the report by discussing the U.S.-China rivalry and how it could impact Asia.
More Hikes? The positive Gross Domestic Income (GDI) report for Q2 could overshadow the negative Gross Domestic Product (GDP) numbers and pave the way for more Fed tightening.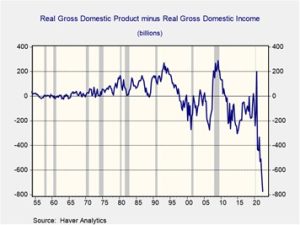 The market will be on pins and needles when Fed Chair Jerome Powell gives the keynote address at the Jackson Hole Symposium. Over the last two days, investors have purchased more than    $1 billion in short-term bond ETFs and have pulled over $2 billion from ETFs attached to the S&P 500. So far, it is speculated that Powell will make hawkish comments during his speech; however, a dovish tone could lead to a strong rally.
Russia-Ukraine: The Kremlin is ramping up pressure in Ukraine to solidify gains before election season for Russia begins in September.
Elections are essential, even for authoritarian governments. Regional elections will take place on September 11, and this will be the first time Russian constituents are able to showcase their level of satisfaction with the government. A low turnout would suggest that the war has dented sentiment in the country. It could also force Putin to take more extreme measures to end the war as he prepares to run for reelection in early 2024.
Asia Risks: Friction between the U.S. and China remains the top risk in Asia.
The rivalry between the U.S. and China could lead to a broader war in the Indo-Pacific. Many countries in the region fear China's rise as a military power and look to expand their capabilities in the event of a conflict. Although we do not expect tensions to rise significantly over the next few months, we do believe that the Chinese will become more assertive after the National Party Congress in the fall. The increase in defense spending likely favors our analysis that defense industries are positioned to benefit from increased global tensions.