Daily Comment (August 24, 2023)
by Patrick Fearon-Hernandez, CFA, and Thomas Wash
[Posted: 9:30 AM EDT] | PDF
Good morning! Today's Comment focuses on three major themes: 1) Why mixed data shows that it is too soon to rule out the possibility of a recession; 2) How the GOP debates may be more important than people realize; and 3) Why Russian President Vladimir Putin will look to burnish his reputation going into the 2024 election.
Bad News Is Good News: Recent economic data has raised concerns about the possibility of a recession.
Economic activity in the United States and Europe appears to be slowing, according to a preliminary survey. The August S&P Composite PMI for the United States came in at 50.2, just above the 50 threshold that separates expansion from contraction. The eurozone and the U.K. also saw their PMIs fall into contractionary territory, with readings of 47.0 and 47.9, respectively. While the manufacturing sector has seen the worst of the slowdown, there are also signs that the service sector is starting to feel the pinch.
Surprisingly, the market responded positively to the disappointing results as it added to speculation that central banks will pause at their next meetings. The S&P 500 had its best day since June, closing the day higher by 1.1%. Meanwhile, the yield on the 10-year Treasury, which hit its highest level since 2007 earlier this week, fell 13 bps. The rise in optimism is related to investors' beliefs that the central bank may not make matters worse by raising benchmark interest rates. The CME FedWatch Tool predicts that there is an almost 90% chance that the Federal Reserve will stand pat at its September meeting.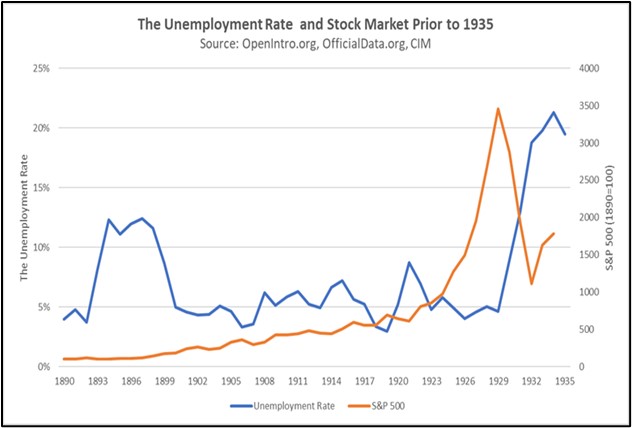 It is not uncommon for a flurry of positive economic data to be released in the run-up to a recession. In fact, prior to the 2001 recession and the Great Financial Crisis, there was talk among experts that a downturn had been averted. Looking even further back, government data released before the Great Depression also did not provide much warning of the impending downturn. While we do not believe that the U.S. is currently in a recession, we are hesitant to say that the worst is over especially as central banks continue to raise interest rates.
First Face Off: GOP candidates had their first debate in Wisconsin on Wednesday in a test to see whom the new face of the party could be.
The Republican presidential debate kicked off without much fanfare, as the candidates played it safe and avoided controversy. However, Nikki Haley stood out from the pack by highlighting her international experience and offering a different perspective on the country's problems. In a surprising move, she blamed her own party for the inflation crisis and accused her rival Vivek Ramaswamy of being soft on China by supporting Russia. Former President Donald Trump, who was not in attendance, is likely to keep his front-runner status, as no candidate was willing to directly take him on in the debate.
President Trump's decision to skip the debate may not have been in his best interest. Debates are a chance for candidates to shape the national conversation on important issues, connect with voters, and defend their records. By not attending, Trump missed an opportunity to control the political narrative and shape the conversation on issues such as U.S. economic policy and border security. Trump has been a vocal critic of U.S. interventionism and is unlikely to support fiscal reforms that would disproportionately burden his voter base. As a result, President Trump may be forced to play defense when he finally enters the political arena.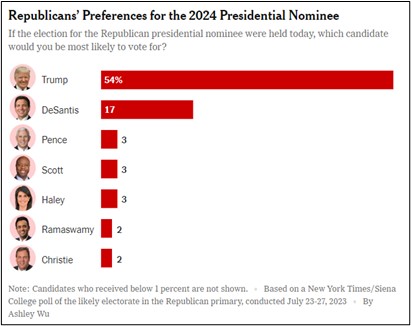 (Source: New York Times)
One of the most pressing issues facing the next U.S. president will be how to deal with the global shift towards regional blocs. At the recent BRICS summit, Beijing and other members of the bloc pushed for emerging markets to join their group as a counter to the G7. In addition to dealing with China, the next U.S. president will also need to address the issue of how to navigate toward an economy built around resiliency as opposed to efficiency. The 2024 U.S. presidential election is still a long way off; therefore, investors have not priced in its potential outcome. If the candidates are perceived as being more hawkish towards China, or less committed to free trade, then financial markets could become more volatile.
 Putin's Positioning: Russian President Vladimir Putin is seeking to position himself as a capable and decisive leader as he prepares for reelection in March 2024.
Yevgeny Prigozhin, a potential rival to Russian President Vladimir Putin, died in a plane crash on Wednesday. Prigozhin was the leader of the mercenary Wagner Group that launched a failed mutiny in June. He was also formerly a close ally of Putin. The plane crash occurred as Prigozhin was traveling from Moscow to St. Petersburg. The cause of the crash is still under investigation, but it is believed that a Russian anti-aircraft defense system may have shot down the plane. Prigozhin's death is a significant development as he was seen as a potential threat to Putin's leadership.
However, Putin still has a lot to worry about as he looks to boost his leadership credentials. The Russian economy is in freefall, with the ruble (RUB) down nearly 30% against the dollar since the start of the war in Ukraine. Also, Russia's current account balance has deteriorated considerably, and interest rates have surged. The country's oil and gas revenues have kept the country afloat, but they have shrunk by almost 50% in the first six months of the year. These poor economic indicators are likely to dampen sentiment among the Russian populace, especially as the pain of economic sanctions continues to hurt households. Putin will need to find ways to address these economic challenges if he wants to maintain his high approval ratings.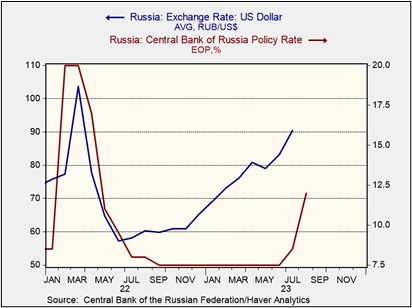 In the face of a prolonged war effort, an attempted coup, and increasingly challenging economic conditions, Russian President Vladimir Putin appears poised to secure a fifth term in office come March 2024. Yet, lingering uncertainties persist regarding the extent of his support within the military ranks. Approaching the upcoming election, Putin is likely to adopt a more daring approach to reaffirm his strongman image, taking calculated risks to fortify his credentials. This dynamic environment introduces the potential for trade disruptions as the conflict continues to unfold, posing a significant risk to regional stability and economic activities.