Daily Comment (August 22, 2022)
by Patrick Fearon-Hernandez, CFA, and Thomas Wash
[Posted: 9:30 AM EDT] | PDF
Our Comment today opens with an update on the Russia-Ukraine war, where very few new territorial gains are being made by either side, but the weekend assassination of a Russian nationalist influencer has sparked concern that Russia may now be forced to intensify its efforts.  We next review a wide range of other international and U.S. developments with the potential to affect the financial markets today, including a few words on this week's Federal Reserve conference in Jackson Hole, Wyoming, where officials could well push back against the market's recent optimism about a halt to interest-rate hikes.
Russia-Ukraine:  It now appears that Russia has exhausted its limited offensive capabilities of the last few months, and it is now making very few territorial gains in Ukraine's eastern Donbas region.  Meanwhile, it continues to dig in against an expected Ukrainian counteroffensive against the areas Russia controls around the southern city of Kherson.  Russia continues to use aircraft, missiles, and long-range artillery to attack targets around Ukraine, but that constitutes most of the damage it's inflicting for the moment.  At the same time, the Ukrainians continue to leverage precision, long-range artillery and other systems from the West to destroy Russian logistics nodes and troop concentrations.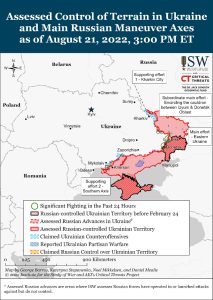 United Kingdom:  If you thought U.S. consumer prices are rising fast, and even if you thought U.K. prices were rising even faster, you ain't seen nothing yet!  Analysts at Citigroup (C, $52.61) predict Britain's consumer price index in January will be up 18.6% year-over-year, mostly due to Europe's soaring natural gas prices and the planned lifting of price caps on that gas.
Such an inflation rate would likely push the U.K. economy deep into recession and force the Bank of England to keep raising interest rates aggressively.
Rising energy prices are also putting pressure on Foreign Minister Truss and Former Chancellor Sunak to spell out policies to address the cost-of-living crisis as they continue to campaign to succeed Boris Johnson as Conservative Party leader and prime minister.
In addition to rising energy costs, the U.K. is also facing a wave of strikes as workers leverage the tight labor market to demand higher pay and better working conditions.  Today, barristers in the country's criminal court system voted to go on strike beginning September 5, joining transport and other workers who have staged walkouts.  If the strikes lead to higher wage costs, they will also contribute to rising price pressures.
China:  As is normal shortly after the People's Bank of China cuts interest rates, as it did last week, commercial banks in China have implemented a series of modest prime-rate cuts on commercial and household loans.  The biggest cut was in the benchmark five-year mortgage rate, which was reduced from 4.45% to 4.30%.  However, the rate cuts are quite modest and are not expected to give any major boost to the economy.
While China has reopened from the most recent COVID lockdowns, the economy is still facing serious headwinds from pandemic uncertainty, government crackdowns on property development and technology, and other factors.
Southwestern China also continues to face a debilitating drought and heatwave, which has reduced hydroelectric production and prompted the government to impose energy conservation rules.
China-Taiwan-Japan:  Following a number of high-profile visits to Taiwan by U.S. lawmakers to show their support for the island democracy, a delegation of Japanese parliament members has begun a similar three-day trip to Taipei today.  The Japanese visit underscores how Tokyo has thrown its weight behind the U.S.'s effort to counter China's growing geopolitical aggressiveness in the region.
Pakistan:  Former Prime Minister Khan has been charged with terrorism offenses after a weekend political rally in which he warned that his supporters "won't spare" the officials from current Prime Minister Sharif's government who were responsible for detaining Shahbaz Gill, one of his allies, earlier this month.  Khan's supporters are seeing the charges as an attempt to silence Khan politically.  The rising tensions threaten to produce further political instability in Pakistan.
United States-South Korea:  Today, for the first time in four years, the U.S. and South Korea will begin more than a week of live military exercises together.  The joint drills will signal stronger cooperation between the two allies as the threats from China and North Korea increase, although they will also likely increase tensions with those two countries.
Canada:  Prime Minister Trudeau's government is proposing that farmers cut their use of fertilizers in order to reduce their emissions 30% from 2020 levels by 2030, with those refusing to do so facing reduced eligibility for green investment incentives.  Although the government so far isn't facing the intense backlash seen in the Netherlands when its government proposed new farming rules to reduce greenhouse gas emissions, farmers and farm-dependent provinces in Canada are pushing back strongly against the proposal.
U.S. Monetary Policy:  The Kansas City FRB opens its annual conference in Jackson Hole, Wyoming, starting on Wednesday, and investors are bracing for the possibility that Fed Chair Powell and other policymakers will push back against the recent market optimism over the possibility of a pivot toward interest-rate cuts.  Stock futures, bonds, cryptocurrencies, and a range of commodities are trading weaker this morning, while the dollar is up.  In addition, the euro has fallen back below parity, recently trading around $0.9900.
U.S. Education Policy:  In an interview yesterday, Education Secretary Cardona called on school districts to provide more competitive salaries to teachers, improve their working conditions, and give them a greater voice in school administrative decisions.  That follows on the Biden administration's call for school districts to help alleviate the national teacher shortage by providing pay increases with part of the money they received last year from the administration's pandemic relief program, although many Republicans want to alleviate the shortage by loosening teacher licensing standards.