Daily Comment (August 19, 2022)
by Patrick Fearon-Hernandez, CFA, and Thomas Wash
[Posted: 9:30 AM EDT] | PDF
Today's Comment begins with a discussion concerning central bank policies and how they may help foreign currencies to appreciate against the dollar. Next, we review whether the U.S. and China's power struggle in Asia could benefit U.S. firms with domestic operations. We end the report with our thoughts about the latest developments in the Russia-Ukraine conflict.
Central Bank News: Mixed messages from the Fed regarding whether it will keep raising rates next year could allow foreign currencies to appreciate against the dollar.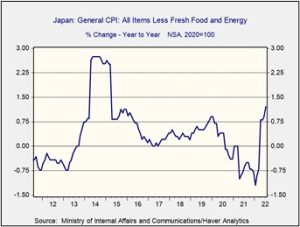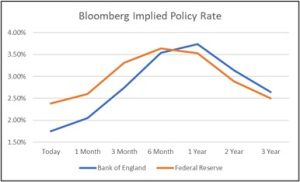 The U.S. dollar value surged against other currencies throughout 2021 and 2022 due to the country's relatively strong economic growth and hawkish monetary policy. This dollar strength could ease, however, as the American economy slows, and the Fed relaxes policy tightening. This outcome will benefit commodity-reliant countries like Japan and provide a tailwind for firms with significant foreign revenue exposure.
Asia News: The U.S. and China's power struggle continues to play out in Asia.
Competition between the U.S. and China threatens firms' ability to operate in Asia. As tensions continue to rise throughout the continent, firms could also struggle to find ways to make both sides happy. Although nonaligned countries appear to be a haven for firms looking to remain neutral, relocating to these areas will be risky. This outcome could benefit American companies with operations solely in the U.S.
Russia-Ukraine update: The cost of the war is rising, but a reshuffling in European governments could pave the way for an end to the war.
Wars are unpredictable and the conflict in Ukraine is no different. The potential of a nuclear disaster may force an international response and hurt global economic growth. The Chernobyl nuclear disaster not only impacted people but also contaminated forest and farmland and led to deformed livestock. That said, political shifts in Europe may help Russia change the tide of the war in its favor. At this time, we still view Europe to be a risky place to invest.