Daily Comment (August 18, 2021)
by Bill O'Grady, Thomas Wash, and Patrick Fearon-Hernandez, CFA
[Posted: 9:30 AM EDT] | PDF
Today's Comment begins with news showing China's crackdown on big, fast-growing tech companies is perhaps even worse than we've been describing.  On top of that, President Xi has signaled a broader prioritization of income redistribution that could also be a significant threat to Chinese companies.  We next review a range of U.S. and international news, including the latest on Afghanistan.  We wrap up with the latest developments related to the coronavirus pandemic.
China:  We've written a lot about Beijing's regulatory clampdown on big, fast-growing technology firms, but new reports show the government is going even further to make sure those companies act in accordance with the Chinese Communist Party's goals.  According to corporate filings and people familiar with the matter, the government is taking a more direct hand in managing its internet-content companies by acquiring stakes, filling board seats, and sending dedicated regulators to police content at firms more frequently.
The moves build on guidelines first proposed in 2016 but only enacted vigorously over the past year.  Under the rules, state-owned entities have purchased small "special management stakes" of 1% or so in publicly traded companies like ByteDance and Weibo (WB, $46.35).  The stakes grant the right to a seat on the companies' boards of directors, and in at least one instance, the stake also includes veto rights over certain matters related to content and specific future financings.
The corporate stakes are the latest move in a multiyear campaign by Beijing to establish a foothold inside influential social-media and news platforms and, more broadly, to tighten control over public opinion on China's internet.  More broadly, the stakes suggest the government won't be content with merely regulating Chinese internet firms and other technology companies.  The government is seeking much more control over those companies, which almost certainly won't support their long-run profitability.
In addition, President Xi reportedly told a high-level Communist Party committee yesterday that China needs to "regulate excessively high incomes and encourage high-income groups and enterprises to return more to society."  The committee added that while the party had allowed some people and regions to "get rich first" in the early decades of China's reform period, it would now prioritize "common prosperity for all."
Note to investors:  China really is run by a bunch of Communists!  The government's "special management shares" may not be outright nationalization, but it's important to remember that there can be a fine line between regulation and ownership.  After all, even in the U.S., heavy government regulation can trigger lawsuits over the "takings" clause of the constitution.  Beijing's small stakes basically amount to "golden shares" that provide the government with much more control than is compatible with a wholly profit-seeking company.  Coupled with the government's apparent turn to income control and redistribution, this is bad news for investors in Chinese companies.
Afghanistan:  To keep hundreds of millions of dollars from the Taliban, the administration last week canceled bulk shipments of dollars to Afghanistan and imposed a block on Taliban access to government accounts managed by the Federal Reserve and other U.S. banks.
The administration is also working to prevent the group's access to nearly half-billion dollars' worth of reserves at the International Monetary Fund.  As the de facto government of Afghanistan, the Taliban could seek to tap those funds, but the U.S., as the IMF's main shareholder, would be in a powerful position to block it.
The moves may give the administration a small amount of leverage over the Taliban.
U.S. Fiscal Policy:  Top Democrats in the House said they would move forward with a vote on a budget blueprint funding the progressive wing's $3.5 trillion antipoverty and climate change plan, despite moderates' demand to move the Senate-passed $1 trillion "hard" infrastructure plan first.  The decision by the House Democratic leadership probably reflects the fact that dozens of party progressives have threatened to scuttle the infrastructure plan if the antipoverty bill isn't passed first, versus just nine moderates who have insisted the infrastructure plan be prioritized.
United States-Germany-Russia:  At least two U.S. officials stationed in Germany sought medical treatment after developing symptoms of the mysterious health complaint known as Havana Syndrome, which includes symptoms like nausea, severe headaches, ear pain, fatigue, insomnia, and sluggishness.  Moreover, U.S. officials said other intelligence and diplomatic personnel in other NATO countries have also been affected, leaving some unable to work.
The Syndrome, first identified among U.S. diplomats stationed in Cuba, is suspected of being initiated by foreign intelligence services.
Some victims in NATO countries were intelligence officers or diplomats working on Russia-related issues, such as gas exports, cybersecurity, and political interference.
Japan-Taiwan-China:  Reflecting Japanese leaders' increasing realization that a Chinese takeover of Taiwan would threaten Japan's security, the Liberal Democratic Party is planning to launch online talks on security issues with Taiwan's ruling Democratic Progressive Party as early as this month.  The moves follow a decision by the LDP in February to establish a project team under its Foreign Affairs Division to discuss Japan-Taiwan relations.
Peru:  The country's new president, former schoolteacher Pedro Castillo, has had significant problems getting his cabinet in place.  Yesterday, his foreign minister, Héctor Béjar, resigned amid an uproar over his accusations that the Maoist Shining Path rebels who terrorized Peru during the 1970s and 1980s were actually linked to the country's navy and the CIA.  Castillo has also generated controversy over his appointment of a hardline leftist, Guido Bellido, as his prime minister.  The moves have been weighing heavily on Peruvian currency.
Global Commodity Markets:  After enduring the worst drought in nearly a century followed by a bout of cold temperatures, areas within Brazil's farming belt are braced for further adversity as the La Niña weather phenomenon threatens to bring more dry conditions later this year.  If conditions worsen as expected, prices for key Brazilian exports such as coffee and sugar would likely rise further than they already have.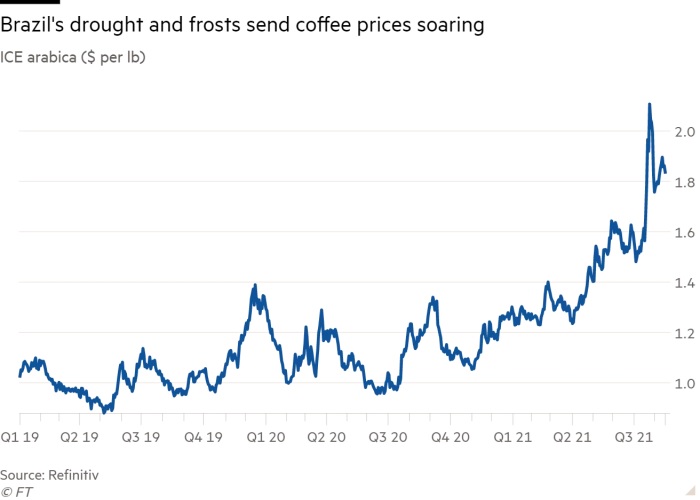 COVID-19:  Official data show confirmed cases have risen to 208,757,350 worldwide, with 4,385,726 deaths.  In the United States, confirmed cases rose to 37,020,723, with 623,329 deaths.  Vaccine doses delivered in the U.S. now total 417,477,975, while the number of people who have received at least their first shot totals 198,929,642.  Finally, here is the interactive chart from the Financial Times that allows you to compare cases and deaths among countries, scaled by population.
Virology
According to the latest CDC data, 59.9% of the U.S. population has now received at least one dose of a vaccine, and 50.9% of the population is fully vaccinated.
Yesterday in Texas, Governor Abbott tested positive for COVID-19, but his office noted that he was fully vaccinated and was not symptomatic.  If he avoids becoming seriously ill, his experience could encourage more people in Texas to be vaccinated, regardless of the state's relatively low uptake to date.
In Japan, Prime Minister Suga asked the country's largest business lobby to help reduce the number of commuters through telework, as the increasingly rampant Delta mutation puts a strain on the country's medical system.
Health officials in Sydney, Australia, are rushing to vaccinate thousands of high school students ahead of in-person end-of-school exams they fear could accelerate the spread of the virus in a country that, until recently, had avoided the worst of the pandemic.
After months in which antibody treatments were heavily underutilized, doctors are increasingly turning to them in a bid to keep hospitals from being overwhelmed by the latest surge in cases.

Primary provider Regeneron Pharmaceuticals (REGN, $647.44) delivered 135,023 doses of its drug to U.S. healthcare providers last week, marking a ninefold increase from a month earlier.
Regeneron estimates that as recently as June, fewer than 5% of high-risk patients were receiving treatment, before increasing recently to as much as 30%.
 Economic and Financial Market Impacts
Foreign Policy Responses
In New Zealand, the government's decision this week to impose a new lockdown on the country after discovering a small number of new cases has prompted the central bank to put off an interest-rate hike.  Instead, the Reserve Bank of New Zealand decided to keep its benchmark short-term interest rate steady at 0.25%.