Daily Comment (August 15, 2022)
by Patrick Fearon-Hernandez, CFA, and Thomas Wash
[Posted: 9:30 AM EDT] | PDF
Our Comment today opens with an update on the Russia-Ukraine war, where the disposition of forces has changed relatively little in recent days.  We next review a wide range of other international and U.S. developments with the potential to affect the financial markets today, most notably a bevy of disappointing economic news from China and a surprise interest-rate cut from the country's central bank.
Russia-Ukraine:  Russian invasion forces continue to make only incremental territory gains in Ukraine's eastern Donbas region, while reinforcing their troops occupying the southern region around Kherson.  The latest reports highlight that those reinforcement efforts have left the Russians with a hodgepodge of forces from different military districts and of different capabilities, which would likely make them hard to manage and relatively ineffective.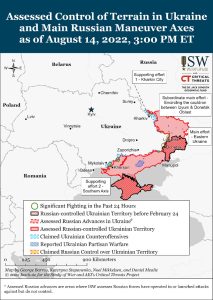 Ukrainian forces continue to destroy the bridges linking Kherson with the rest of the territory occupied by the Russians, which will make it even harder for the Russians to defend the territory against Ukrainian counteroffensives.
Meanwhile, global leaders are becoming increasingly alarmed about the fighting around the Zaporizhzhia nuclear power plant in eastern Ukraine.  One concern is that the fighting could damage the reactors and cause a nuclear disaster.  Another concern is that the Russians are reportedly siphoning off electricity from the plant and sending it to Russia.
On the energy front, the leaders of Spain and Portugal said they support German Chancellor Scholz's call last week for a north-south natural gas pipeline that would run from Portugal via Spain and France to Central Europe.

According to Spanish Ecological Transition Minister Teresa Ribera, the Spanish portion of the pipeline could be finished in eight or nine months.
The next major approval would have to come from France.
China:  After a wide range of data today showed China's post-pandemic economic recovery stumbled in July, the People's Bank of China announced a surprise interest-rate cut.  However, the cut in the medium-term interest rate was just 0.1%, to 2.75%, perhaps signaling the central bank's reluctance to ease policy more aggressively after it recently warned about inflation pressures.
Among the weak data points, July industrial production was up just 3.8% year-over-year, well short of the expected rise of 4.5%.  July retail sales were up 2.7% on the year, compared with an anticipated rise of 5.0%.  A key index of new home prices was down 1.7% year-over-year, after being down 1.3% in the prior month.
The broadly weak economic data and tepid interest-rate cuts suggest China's economy will offer little support to global economic activity this year.  This news coupled with high inflation around the globe, aggressive interest-rate hikes by many key central banks, and the impact of the Russia-Ukraine war, suggests the U.S. economy and financial markets are likely to face headwinds in the coming months.
One major impact so far this morning:  commodity prices have fallen dramatically, with Brent crude oil down 5.2% to $93.06 and copper down 3.0% to $3.5555.
China-Taiwan-United States:  Following House Speaker Pelosi's controversial visit to Taiwan earlier this month, a bipartisan group of Congressmen landed on the island yesterday, prompting another round of protests and threatening military exercises by Beijing.  Like Pelosi, the legislators said they were visiting Taiwan to express support for its democracy and to demonstrate their right to visit the island.
Indeed, these Congressional visits could be seen as political "freedom of operation sailings" or FONOPS, similar to those the U.S. Navy makes throughout the waters around China to assert the right of foreign ships to sail in international waters.
The Congressional visits, like their naval counterparts, help to push back against Beijing's geopolitical aggressiveness in the Indo-Pacific region, but they also raise U.S.-China tensions and increase political risks for cross-border investors.
United States-Iran:  U.S. Secretary of State Blinken has explicitly linked Iran to the attempted murder last week of irreverent novelist Salman Rushdie.  Specifically, Blinken called out Iranian institutions for inciting violence against Rushdie for generations and then gloating over the news of his stabbing last week.  The statement illustrates how the stabbing has become yet another source of tension between the U.S. and Iran.
European Drought:  As Europe's historic drought worsens, the depth of the Rhine River between Wiesbaden and Koblenz fell to just 40 cm on Friday.  At that depth, most barges can only carry a fraction of their capacity, meaning companies needing to send coal, chemicals, or components upstream from Rotterdam and Antwerp will have to use much more expensive truck and rail systems.
United Kingdom-Leadership Race:  In the race to succeed Boris Johnson as Conservative Party leader and prime minister, polling over the weekend showed Foreign Minister Liz Truss's lead over Former Chancellor Rishi Sunak has narrowed to 22%.  However, other reports say as many as 8 in 10 party members have already sent in their ballots, which likely works in Truss's favor because her lead hadn't begun to narrow until recently.
United Kingdom-COVID:  The Medicines and Healthcare Products Regulatory Authority has approved a COVID-19 vaccine from Moderna (MRNA, $171.18) that is specifically targeted to the highly transmissible Omicron variant.  The move makes the U.K. the first country in the world to approve an Omicron-specific vaccine and likely sets up an autumn vaccination drive for it.
U.S. Fiscal Policy:  On Friday, the House passed President Biden's "Inflation Reduction Act," which includes higher taxes on corporations and increased funding for the IRS to raise funds for deficit reduction, as well as providing new funding for healthcare, climate-stabilization, and sustainable agriculture policies.  As we've noted previously, passage of the bill may marginally improve the Democrats' prospects in the mid-term elections in November, but we still expect the Republicans to take control of at least the House.