Daily Comment (August 14, 2023)
by Patrick Fearon-Hernandez, CFA, and Thomas Wash
[Posted: 9:30 AM EDT] | PDF
Our Comment today opens with new evidence that China's slowing economy may be setting the scene for a potential financial crisis.  We next review a wide range of other international and U.S. developments with the potential to affect the financial markets today, including a right-wing electoral win in Argentina's weekend elections and the latest on last week's Maui wildfire.
China:  Two new developments are raising concerns today about China's faltering economy and the risk of a financial crisis in the country.  Along with challenges such as slowing global demand for Chinese exports, bad demographics, and government intrusion into the economy, the growing risk of a financial crisis could slow the economy further, weighing on global economic growth and creating further headwinds for Chinese stocks.
Following on its missed international bond payments last week, real estate developer Country Garden (CTRYY, $3.23) suspended trading in at least 10 of its mainland bonds. That move has been especially concerning because the company, until now, had weathered the government's debt crackdown relatively well.  It now appears that developers are in a new crisis, pushing their stocks down sharply so far today.
In the second concerning development, reports have surfaced that a number of units of conglomerate Zhongzhi (3737.HK, HKD, 1.17) have recently failed to make payments on the high-yield investment funds they offered. The news has raised concerns that the problems in China's real estate sector are now spreading to the rest of the economy.
China-Taiwan-United States:  On Saturday, Taiwanese Vice President Lai Ching-te, the leading candidate for president in next year's election, touched down in the U.S. on his way to a meeting in South America.  The transit through U.S. territory is being interpreted as provocative by China and could potentially prompt Beijing to take dangerous retaliatory steps, such as increased naval and air sorties around Taiwan.
Russia-Ukraine War:  The Ukrainian military over the weekend again targeted Russia's supply lines to its troops in Crimea, with at least two more missile attacks on the bridge connecting Russia proper to the peninsula.  In recent weeks, the Ukrainians have targeted multiple bridges and other infrastructure running to Crimea and the Russian forces occupying southeastern Ukraine.  Some evidence suggests the effort has weakened the Russian forces, but not enough to have a major impact on the war, at least so far.  Meanwhile, Russia launched more missile strikes against Ukraine's Black Sea port of Odesa this morning, as it continues trying to choke off Ukrainian grain exports.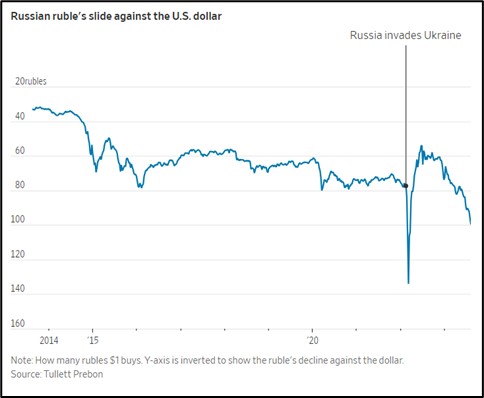 Brazil:  The government of left-wing populist President Luiz Inácio Lula da Silva has proposed a 371 billion BRL ($76 billion) public works program aimed at spurring economic growth and protecting the environment.  If the program spurs additional investment by state-owned firms and the private sector, the government believes it will channel a total of 1.4 trillion BRL ($287 billion) into new construction, infrastructure repair, and environmental projects.
Argentina:  In a primary election over the weekend, radical libertarian Javier Milei and his Freedom Advances party took first place with a strong 30.1% of the vote, beating right-wing Patricia Bullrich and her Together for Change party, which ended up with 28.3%.  The results illustrate the extent to which Argentines have soured on the left-wing populism of Peronism and Kirchnerism.  Milei has even called for extreme austerity and dollarizing the economy.  However, even though the election results point to a shift toward more orthodox economic policies in Argentina, Milei's proposals are considered so radical that they could be destabilizing, so it's not clear that the results will spark a lasting appreciation in Argentine assets.
U.S.–Private Debt Market:  New data shows that private lending, which was already growing strongly before this year, has accelerated even further after the bank crisis this spring.  In part fueled by impending new capital standards being imposed on the traditional banking industry, the increasing amount of lightly regulated lending is raising concerns about further bank disintermediation and growing financial risks.
U.S.–Maui Wildfire:  Federal, state, and local officials continue to search for victims of last week's devastating fire and investigate how it became such a disaster.  Almost 100 fatalities have been tallied so far, making it the deadliest wildfire in the U.S. in about a century.  Importantly, officials and residents are urging vacationers to skip travel to the island for the time being in order to free up lodging resources for the newly homeless and reduce pressure on other local resources.