Daily Comment (August 13, 2021)
by Bill O'Grady, Thomas Wash, and Patrick Fearon-Hernandez, CFA
[Posted: 9:30 AM EDT] | PDF
Good morning, all! U.S. equities appear to be headed for a higher open this morning. Our report begins with a discussion about inflation. Next, we provide a round-up of international news, including the Taliban's advancement in Afghanistan and Bolsonaro's attempt to undermine the electoral process in Brazil. U.S. economics and policy news are up next, including details about the latest Census survey. China news follows, and we end with our pandemic coverage.
Let's talk about CPI: The Bureau of Labor Statistics released the latest price figures this week and it offered some reassuring news. The month-over-month rise in CPI decelerated to its slowest pace in five months. In July, headline CPI rose 0.5%, down from the previous month's reading of 0.9%. Additionally, core CPI slowed from 0.9% in June to 0.3% in the latest report. The deceleration was led by a steep decline in the pace of price increases for used cars. The report showed that the rise in used car prices slowed from 10.5% in June to 0.2% in the following month. Despite the moderation in CPI, inflation fears may still be warranted.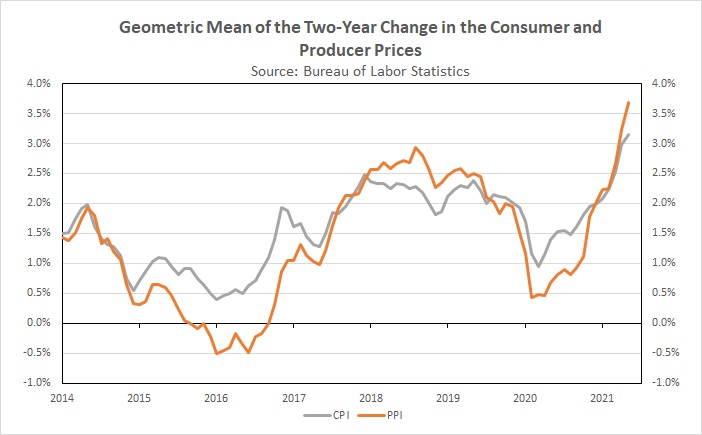 The chart above shows the geometric mean of the two-year change in the producer and consumer price indexes. This chart is designed to improve the year-over-year comparability of the indexes by averaging the change over the last two years, thereby limiting the pandemic distortions. That being said, the data suggests that despite the moderation in consumer prices in July, price pressures are still building throughout the economy. At this time, it appears that this pressure may be related to a lack of inventory. As a result of material shortages, demand for goods and services remains high as firms attempt to rebuild their inventories to meet growing demand. As of June, retail inventories for motor vehicles and clothes are still well below their pre-pandemic levels, while sales appear to be very strong. Over time, we believe as production capacity expands inventories will return to their normal level and this should relieve the economy of some inflationary pressure. Therefore, the most recent report has not changed our view that inflation is likely transitory.
International news: 
Economics and policy:
China:
COVID-19: The number of reported cases is 205,462,557 with 4,335,111 fatalities.  In the U.S., there are 36,306,917 confirmed cases with 619,093 deaths.  For illustration purposes, the FT has created an interactive chart that allows one to compare cases across nations using similar scaling metrics.  The FT has also issued an economic tracker that looks across countries with high-frequency data on various factors.  The CDC reports that 411,253,925 doses of the vaccine have been distributed with 353,859,894 doses injected.  The number receiving at least one dose is 196,505,543, while the number receiving second doses, which would grant the highest level of immunity, is 167,354,729.  The FT has a page on global vaccine distribution.