Daily Comment (August 12, 2022)
by Patrick Fearon-Hernandez, CFA, and Thomas Wash
[Posted: 9:30 AM EDT] | PDF
Good morning. Today's Comment starts with a discussion of tensions in Asia and how they could impact global supply chains. Next, we review the ongoing energy crisis in Europe and its effects on the global economy. Finally, we conclude with our thoughts on improving relations between Russia and Iran and what this development could mean for the West.
Asia: The continent is rife with political risk as countries are becoming more contentious and less predictable.
China could escalate tensions over Taiwan after Xi is officially granted an unprecedented third term. Before Pelosi visited the self-governing island, Chinese President Xi Jinping assured President Biden that China was not willing to go to war over the trip; this reluctance was likely related to Beijing wanting to maintain stability as the country prepares for the National Party Congress in the fall. The government is under a lot of pressure due to dissatisfaction with its Zero-COVID Policy and the property market meltdown. Therefore, China does not want to risk angering its people as the country seeks to present itself as a bastion of wealth and economic growth to the rest of the world. After Xi is reappointed as president, analysts expect he could become more hostile to countries that challenge China's authority.

Taiwan rejected China's claim of a "one country, two systems" model for the region. Beijing has used this model to dictate the relationship of areas such as Hong Kong and Macau. It allows territories to accept China's sovereignty claim in exchange for greater autonomy.

North Korean Leader Kim Jong-un might have suffered from COVID during the recent outbreak. The news of his illness is a rare admission from a country that generally likes to keep information secret about its leaders' health. It is unclear whether the report is accurate or why the government made it public. However, if Kim Jong-un were to die, it could lead to instability in a country that has nuclear weapons.
South Korea and China are clashing over plans to install a weapons defense system. The disagreement is over the Terminal High Altitude Area Defense (THAAD) system that the U.S. delivered in 2016. China insists THAAD has the potential to spy on its own systems.
The Korean peninsula is a region with risks that are hard to forecast. North Korea's privacy makes it difficult to gauge political risk within the country. Meanwhile, China's power projection may hurt countries looking to counter its influence. For example, Beijing could look to limit trade relations as retaliation for countries not doing what it wishes. Additionally, the Taiwan situation will likely escalate. Because many firms have manufacturing operations set up in Asia, tensions on the continent could complicate supply chains. This outcome could hurt firm profits and add to global inflationary pressures.
Europe: The energy crisis in Europe is adding to the continent's economic woes and will severely impact firms and households as they head into winter.
European countries are looking to avoid a potential energy crisis by integrating energy channels. For example, German Chancellor Olaf Scholz has backed a proposal that would link the pipelines of Spain and Portugal to the rest of Europe. Although construction of the pipeline will not be finished in time to prevent an energy crisis by this winter, it does suggest that European countries are looking to reduce their dependence on Russia.
In the U.K., rising energy costs will take center stage as the prime minister battle heats up. Former British Finance Minister Rishi Sunak has plans to cut 200 pounds from household energy bills by reducing the value-added tax. Energy prices will triple this year; thus, consumers will likely welcome any financial assistance. He also has plans to offset the loss of revenue by levying a windfall tax on energy profits. However, his opponent, Liz Truss, has rejected the notion of implementing a windfall tax. Sunak remains an underdog in the prime minister contest; however, his windfall tax plan is very popular among Brits.
Declining water levels in the Rhine will likely add to Europe's economic woes. The Rhine River is a crucial trade route for the Netherlands, Germany, and Switzerland. The lack of rainfall and severely hot temperatures threaten to render the rivers impassable for ships. The waterway is expected to dip below the threshold needed for navigation over the weekend, and the problem could extend for months. The lack of maritime trade along the river will make it harder for firms to receive needed supplies such as oil, grains, and chemicals.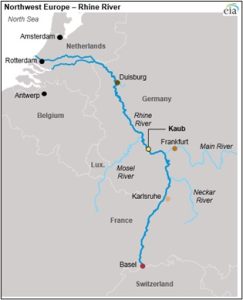 Governments in the West are coming under growing pressure to combat rising energy costs to appease their constituents. The lack of infrastructure, Russian energy, and maritime shipping capacity will make it harder to contain energy prices. Even if lawmakers offer financial assistance to households, it is unlikely to be enough to offset the surge in household costs. As a result, Europe will likely fall into recession sometime in the fall of this year.
Russia-Iran:  Russia and Iran have strengthened ties to help each other circumvent Western sanctions.
Russia, Iran, and India are close to opening a new trade route. The new shipping method will allow Russia to transport its resources to India without relying solely on Western waterways such as the Suez Canal, the Mediterranean, and the Bosporus. The route allows for the sanction-proof transport of goods and could benefit other countries in Central Asia and the Caucasus. Hence, Russia and Iran are learning to live with the sanctions.
Additionally, the two sides have strengthened their military ties. Tehran has provided weapons to Russia and helped Moscow conduct cyberattacks on Ukraine. Meanwhile, the Kremlin has allowed Iran to use Russian satellites to gather intel on the U.S. and its adversaries in the Middle East. The two sides have also teamed up to help Armenia protect itself from its rival, Azerbaijan. The integration suggests the countries might coordinate some of their foreign policy as they look to counter other alliances in the West and the Middle East.
Lastly, Russia and Iran are working vigorously to create a system that can be used as an alternative to SWIFT. They have agreed to allow trade using their respective currencies and are looking to expand the payment system to include currencies such as the Turkish lira and Indian rupee. The alternative payment system is paving the way for dollar-free trade for countries not aligned with the West and is an example of the ongoing trend toward deglobalization.
The increased economic and military cooperation between Russia and Iran is an example of countries starting to form blocs based on their financial and geopolitical interests. Given their volatile relationships with countries in the West and the Middle East, their rivals may decide to boost their military capabilities. Thus, strengthening relations between Russia and Iran should benefit defense industries.