Daily Comment (August 11, 2021)
by Bill O'Grady, Thomas Wash, and Patrick Fearon-Hernandez, CFA
[Posted: 9:30 AM EDT] | PDF
In today's Comment, we open with a discussion of U.S. policy actions, with a focus on yesterday's Senate passage of the bipartisan "hard" infrastructure bill and this morning's Senate passage of a budget blueprint encompassing the Democrats' big antipoverty and climate proposal.  We next turn to a review of key international news and end with a discussion of various developments related to the coronavirus pandemic.
U.S. Fiscal Policy: The Senate yesterday passed the $1 trillion, bipartisan "hard" infrastructure bill by a vote of 69 to 30.  The bill now must be passed by the House, where Democrats have yoked the fate of the infrastructure effort to passage of their broad $3.5 trillion antipoverty and climate effort.
As promised, Senate Majority Leader Schumer launched a budget bill encompassing the antipoverty and climate package immediately after passage of the infrastructure proposal.  That bill was approved by the Senate early this morning.  Up next: Schumer has set a deadline of September 15 for committee leaders to submit their individual components of the package.
Separately, in the midst of voting on the antipoverty and climate bill, almost all Republican senators signed onto a pledge not to help Democrats raise the debt ceiling, even though the Treasury Department is already bumping up against the current limit and risks of a default are rising if the ceiling isn't lifted in the coming weeks.

With Republicans insisting that the Democrats take responsibility for the increased spending in their plans, one idea they are considering is a standalone vote to suspend the debt limit.  That move could put pressure on Republicans to support the measure or risk rattling financial markets if the vote fails.
Lawmakers could also attach the measure to another must-pass bill, like government funding, to force the issue.
U.S. Monetary Policy: Chicago FRB President Evans, a voting member on the FOMC this year, said he expects recent employment gains to continue, which would allow the Fed to declare that the economy has achieved the "substantial further progress" it targeted last December.  In that case, Evans said it would be appropriate for policymakers to start reducing their asset purchases, although he warned against tightening policy too early and accidentally forcing core inflation down below the Fed's 2% target.
Cryptocurrencies: Poly Network, which links some of the world's most widely used digital legers, said it suffered a cyberattack in which thieves stole crypto tokens worth approximately $600 million.  The loss will probably feed into growing concerns about the fast-growing cryptocurrency markets.
China: Against the backdrop of the government's broad clampdown on Chinese technology companies, it turns out that its crackdown on education services is also broader than earlier known.  New reporting shows that many owners of private, for-profit schools have been forced to turn over their institutions to local governments without compensation.
China has approximately 190,000 private, for-profit schools, which educate about 20% of elementary, middle, and high school students.  Beijing wants to cut the share of elementary and middle school students studying at such institutions from 10% currently to just 5% as soon as the end of this year.
As the Chinese government continues to crack down on some sectors, investors are shifting their asset purchases toward industries they believe are favored by Beijing, such as high-tech manufacturing and renewable energy.  Shares of Chinese semiconductor companies, electric vehicle manufacturers, and solar panel makers listed in mainland China climbed over the past month, while shares of technology giants and companies that provide after-school tutoring suffered massive selloffs.
China-Canada: A Chinese court has jailed Canadian citizen Michael Spavor for 11 years for spying, in a case that is considered retaliation for Canada's arrest of Meng Wanzhou, an executive for Chinese telecom giant Huawei.  The sentence also includes a fine and deportation of Spavor, although the deportation may only happen after the prison sentence is completed.  In any case, the sentence will probably further strain Chinese-Canadian relations.
United Kingdom-Germany-Russia: German police have arrested a U.K. man working at the British embassy in Berlin on charges that he was passing information on to Russian intelligence agents.  The man is accused of working with the Russian intelligence agents since last November.
United States-Germany-Russia: Secretary of State Blinken has appointed former diplomat Amos Hochstein as senior adviser on energy security, with a focus on measures to "reduce the risks" posed by the German-Russian Nord Stream 2 natural gas pipeline and support energy security in Eastern Europe.  The appointment of Hochstein, who had been an opponent of the pipeline and is seen as a hawk on Russia, could signal that the Biden administration still aims to take a tough approach toward Russia despite acquiescing to the almost-completed project.
Brazil: A military parade in Brasilia that was widely seen as an attempt by President Bolsonaro to intimidate Congress apparently backfired as lawmakers voted down an electoral change championed by the president.
Afghanistan: Taliban fighters have captured three more provincial capitals as they steadily tighten the noose on the central government in Kabul.  The Islamist group has now captured nine, or more than a quarter, of the country's provincial capitals, more than half of the country's mostly rural districts, and a number of economically important border crossings.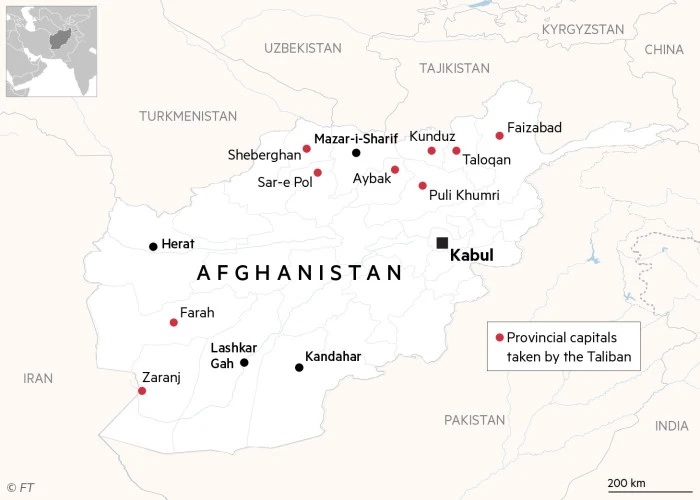 COVID-19:  Official data show confirmed cases have risen to 204,192,836 worldwide, with 4,318,124 deaths.  In the United States, confirmed cases rose to 36,058,757, with 618,149 deaths.  Vaccine doses delivered in the U.S. now total 408,325,135, while the number of people who have received at least their first shot totals 195,646,711.  Finally, here is the interactive chart from the Financial Times that allows you to compare cases and deaths among countries, scaled by population.
Virology
According to the latest CDC data, 58.9% of the U.S. population has now received at least one dose of a vaccine, and 50.3% of the population is fully vaccinated.
President Biden will meet today with a number of large companies and institutions that have imposed vaccine mandates on their employees, in a bid to encourage more companies to require that their workers get vaccinated.  We note that if more companies, universities, and other institutions impose vaccine mandates, it would provide political cover for the administration as it seeks to pressure more people into getting a shot.
India is in negotiations with Western vaccine makers in an effort to secure tens of millions of COVID-19 vaccine doses in the next few months, which would ease supply shortages that have been stymying the country's massive immunization campaign.
In the U.K., the latest surge of COVID-19 cases is giving rise to growing optimism among doctors and scientists that the highly transmissible delta variant can be held at bay with high levels of vaccination and public caution.  Although caseloads are now ticking higher after Prime Minister Johnson dropped almost all public health restrictions in mid-July, hospital admissions have been falling and deaths are at a fraction of the level seen in earlier phases of the pandemic, according to the latest official data through early August.
Despite the positive signs out of the U.K., the fast-spreading delta mutation is still having some impact.  Southwest Airlines (LUV, 51.11) warned that the recent surge in cases has begun to weigh on its recovery from the impact of the pandemic.

The carrier said it has recently seen a slowdown in both near-term bookings and a rise in trip cancellations in August.
It now expects operating revenue for the month will be 15%-20% below 2019 levels, compared with a prior estimate of a decline of 12%-17%.
 U.S. Policy Response