Daily Comment (August 10, 2021)
by Bill O'Grady, Thomas Wash, and Patrick Fearon-Hernandez, CFA
[Posted: 9:30 AM EDT] | PDF
In today's Comment, we open with an update on U.S. policy news, including expectations that the Senate will pass the $1 trillion "hard" infrastructure bill this morning, even as Democrats released details on their proposed follow-on bill covering antipoverty and climate proposals.  We also discuss developments in the U.S. labor and cellphone markets.  We next turn to major foreign news items and end with the latest news related to the coronavirus pandemic.
U.S. Fiscal Policy: Senate Democrats released an outline of their $3.5 trillion antipoverty and climate plan encompassing a range of programs such as universal prekindergarten and expanded Medicare.  Democrats will focus on passing it as early as Tuesday, right after the Senate is expected to pass the $1 trillion "hard" infrastructure plan covering items like roads, bridges, airports, and broadband systems.
The plan includes higher taxes for corporations and high-income individuals as well.
It also includes a provision offering a pathway to lawful permanent status for certain migrants to the U.S.
U.S. Monetary Policy: Even though President Biden's economic team generally supports renominating Federal Reserve Chair Powell to a second four-year term when his current term runs out in February, prominent progressives in the Democratic Party are increasingly agitating for someone who they think would be more closely aligned with their priorities.  Despite Powell's forceful response to the coronavirus pandemic and his effort to push monetary policy more strongly in the direction of supporting full employment, especially for minorities, progressives are looking for a Democrat who would be more open to tighter regulation of the financial industry and perhaps even looser monetary policy.
If Powell is not renominated, the leading contender for the chair's job is Fed Governor Lael Brainard, an economist appointed to the board in 2014 by former President Obama.
We think another possible choice would be Raphael Bostic, who currently serves as president of the Federal Reserve Bank of Atlanta and is a former Fed economist.
U.S. Labor Market: In the monthly JOLTS report yesterday, June unfilled job openings rose to a seasonally adjusted 10.1 million, reaching the highest level since record-keeping began in 2000.  The increase was driven largely by professional and business services, retail, and accommodation and food services as the month of June saw continued easing pandemic restrictions and thus more consumers dining out and traveling.  Importantly, the number of open jobs now exceeds the number of people counted as unemployed.  That signals a tight labor market, although it's important to remember that this data would not yet reflect much impact from the rapidly spreading delta mutation of the coronavirus.  The chart below shows the ratio of unemployed workers to job openings.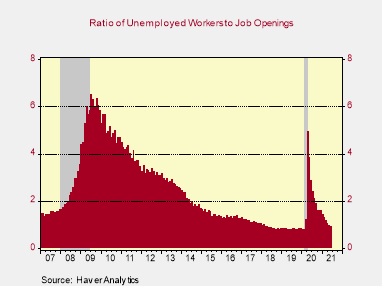 U.S. Cellphone Market: Even as U.S. cellphone service providers reported adding some eight million new subscribers over the last year, a firm that tracks the industry said U.S. population and market trends could only explain four to six million of the new subscribers.
According to Jonathan Chaplin, a telecom analyst at New Street Research, "There's something fishy going on…If you look at the subscribers at the end of the period and all the net adds they report, they don't jibe."
The disparity is raising concerns that the firms could be reporting inflated subscriber data, which naturally would not be taken well by investors.
China: Japan's mammoth Softbank (SFTBY, 30.74) said it will cut its investment in Chinese start-ups until the extent of Beijing's scrutiny of the tech sector becomes clear.  Founder Masayoshi Son said the investment conglomerate will take a "wait-and-see stance" until the situation settles in what he hopes would be a year or two.
We've been writing a lot about the way Chinese companies are facing both increased regulatory risk at home and pressure from the U.S.  That has led to a lot of volatility in Chinese stocks, although we've been able to avoid some of that volatility in some of our own strategies, where we've shifted our foreign stock exposure toward non-Chinese companies.
Not only are Chinese equities at risk from the new regulatory moves, but Chinese corporate bonds related to the companies under scrutiny have also depreciated.  Since Chinese bonds are now so widely held, the volatility is affecting investors around the world.
China-Cambodia: A report from Human Rights Watch has branded a Chinese-financed dam in Cambodia as a "disaster" for indigenous and ethnic minority communities.  The report claims that the Lower Sesan 2 dam, part of China's signature Belt and Road Initiative, has "washed away the livelihoods" of communities that relied on fishing, forest-gathering, and farming when the areas upstream were flooded.  The report adds to multiple other reports accusing the program of damaging poor, developing countries despite China's effort to use the initiative to expand its global influence.
China-Russia: Russian forces are participating in a regular Chinese military exercise for the first time this week, stoking concerns among Western analysts that the two U.S. adversaries are developing joint operational capabilities.
Russia: Although jailed opposition leader Alexey Navalny has largely dropped out of the headlines recently, the Russian government continues to put pressure on his organization in an apparent effort to rip it out of society "by the roots."  In the latest move, the government has opened a criminal investigation into two exiled allies of Navalny for raising funds for organizations deemed by the authorities as "extremist."
Afghanistan: Taliban forces overran a fifth provincial capital in northern Afghanistan yesterday, putting even more pressure on the central government in Kabul.  Taliban fighters now control more than half of the country's 400 districts and a number of economically important border crossings as government security forces retreated to local cities.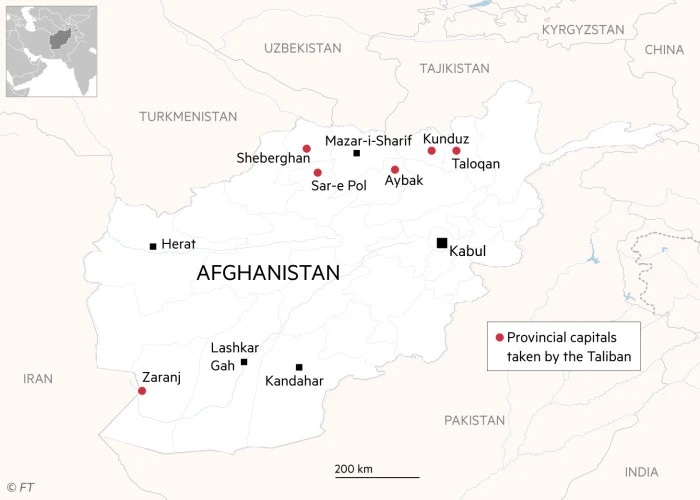 Peru: Worries about the country's new left-wing government are already weighing on economic activity, but they're also exacerbating inflation.  Increased political and policy uncertainty have contributed to a 13% decline in the value of the currency since the start of the year, driving up costs for imports and the goods or services that compete with them.
COVID-19:  Official data show confirmed cases have risen to 203,559,532 worldwide, with 4,307,242 deaths.  In the United States, confirmed cases rose to 35,950,379, with 617,424 deaths.  Vaccine doses delivered in the U.S. now total 407,560,705, while the number of people who have received at least their first shot totals 195,222,906.  Finally, here is the interactive chart from the Financial Times that allows you to compare cases and deaths among countries, scaled by population.
Virology
According to the latest CDC data, 58.8% of the U.S. population has now received at least one dose of a vaccine, and 50.2% of the population is fully vaccinated.
In a dramatic illustration of how the fast-spreading delta variant is sparking tougher vaccine requirements, Defense Secretary Austin said he would make vaccinations mandatory for all U.S. military personnel by mid-September.  In a separate statement, President Biden expressed his "strong support for the move," and Army Gen. Mark Milley, the chairman of the Joint Chiefs of Staff, endorsed the measure as a "key force protection and readiness issue."
Canada yesterday opened its borders again to fully vaccinated people from the U.S.  However, the U.S. is still not allowing Canadians to cross into the U.S. by land.
While the main Western vaccines continue to exhibit good effectiveness against even the delta variant, China's worst coronavirus outbreak since the virus first emerged in Wuhan is adding to concerns about the quality of its domestically developed vaccines.  Rising case numbers have focused attention on the absence of rigorous studies from state-run Sinopharm (SHTDY, 13.36) and privately owned Sinovac proving that their vaccines work against this mutation.
Japan has now administered more than 100 million doses of COVID-19 vaccines and surpassed the U.S. in the proportion of older people who are fully vaccinated, according to government figures released Tuesday.  The country is still struggling to get its latest wave under control, and there is still some risk that the recent Olympic games in Tokyo could touch off a new resurgence.  However, the improvement in its mass vaccination program could help lower infections in Japan and allow it to ease restrictions again.
With the delta mutation now spreading around the world, China is clamping down hard again on affected areas, and both France and Italy in recent days have broadened their requirements for people to show vaccination or immunity "health certificates" to dine in a restaurant or take part in other activities.  The reimposition of restrictions is a rising risk for the global economy, although we still doubt there will be anything like the tight, widespread economic shutdowns of 2020.
Economic and Financial Market Impacts
Driven by the fast-spreading delta mutation, some consumers are rethinking their return to dining out, according to executives and industry data, threatening the U.S. restaurant sector's rebound.  Recent consumer surveys show the delta variant has prompted Americans who say they are the most restricted in their activities to start pulling back again late last month.
One key impact of the delta variant has been on the debt of U.S. firms seen to be particularly at risk of renewed lockdowns, social distancing measures, or consumer retrenchment.  Bonds issued by cruise companies, cinema operators, and retailers have all fallen in price over the last week as more businesses delayed plans to return workers to offices due to the delta escalation, with others opting to impose vaccine requirements on their staff.