Daily Comment (April 8, 2021)
by Bill O'Grady, Thomas Wash, and Patrick Fearon-Hernandez, CFA
[Posted: 9:30 AM EDT] | PDF
Good morning all!  U.S. equity futures are mostly elevated this morning in the wake of yet another record S&P 500 close.  We open commentary this morning with the Fed minutes.  Economics and policy follow with corporate taxes in the spotlight.  Pandemic news is next.  China news follows, and we close with our international news roundup.
Fed minutes:  There were no obvious surprises in the minutes from the March 16/17 meeting.  There were expressions of concern about inflation, but it is also obvious that the FOMC intends to keep rates steady at least into 2023.  Although there are comments circulating that the market is starting to discount rate hikes sooner than the FOMC is suggesting, our Eurodollar model suggests that rates are merely normalizing, but it doesn't appear to us that the rise in market rates is out of the ordinary.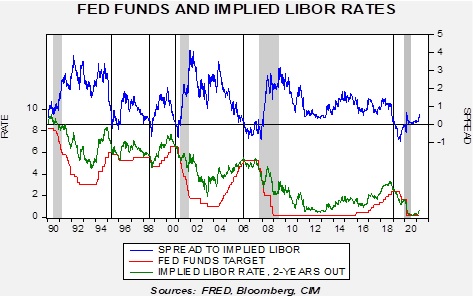 Eurodollar yields reflect both expectations of policy changes and credit risk.  The current spread suggests no rate hikes for two years.
Economics and policy:  Better global growth is coming, and a global corporate tax agreement is being floated.
The IMF meetings are being held virtually this week; they usually are held in Washington this time of year. Mainly due to aggressive U.S. fiscal action, but also aided by expectations of waning pandemic influence, the group raised its forecast for this year's global GDP growth to 6%, up from the 5.5% forecast made in January.  Despite this rising growth, the dispersion of growth is also widening; vaccine distribution has mostly been focused on the developed world, meaning that the emerging world economies are mostly lagging.
Morning Consult, a survey firm, notes in a recent study that states dependent on tourism are lagging in the recovery.
We usually don't engage in a deep analysis of proposed tax changes until we are confident that they will be passed. That doesn't mean we are not paying attention.  For now, we will rely on the work of others in this area.  Here you will find some background on the details of U.S. corporate taxes.  Although the headline focus tends to be on the marginal rate, the bigger battle is in the details.  The U.S. corporate tax code has provisions that tax multinational corporations on their global income.  The idea is that America is the home of a large number of global firms, and merely taxing their U.S. operations allows them to avoid taxes on what may be the bulk of their earnings.  At the same time, most foreign nations also tax these firms on their "domestic" operations.  Thus, there is a complicated set of rules that govern tax credits on foreign taxes paid.  This area is where the controversy lies.  Of course, a major problem is that some nations have low or no corporate taxes.  Firms are, therefore, encouraged to locate some level of operations there, where profits are funneled to further avoid taxes.  One way to address this issue is to create a minimum global standard of taxation; there is some EU support for this idea.  However, for some of these small nations that benefit from the current arrangement, it would be very difficult to get them to sign off on a minimum tax regime.  The bottom line is that we are still a long way from actually seeing tax changes.
COVID-19:  The number of reported cases is 133,250,442 with 2,890,706 fatalities.  In the U.S., there are 30,923,521 confirmed cases with 559,117 deaths.  Both cases and fatalities in the U.S. are declining.  For illustration purposes, the FT has created an interactive chart that allows one to compare cases across nations using similar scaling metrics.  The FT has also issued an economic tracker that looks across countries with high-frequency data on various factors.  The CDC reports that 225,294,435 doses of the vaccine have been distributed with 171,476,655 doses injected.  The number receiving at least one dose is 109,995,734, while the number of second doses, which would grant the highest level of immunity, is 64,422,618.  The FT has a page on global vaccine distribution.  The Axios state map shows a mixed picture, with the net result of mostly steady infection rates.
Virology
China:  Regional tensions remain elevated, and it appears the U.S. is backing down from a boycott of the Olympics.
International news:  Our roundup.
---
[1] The ESG movement would be part of this idea.
[2] This is nothing new, BTW.  The Triffin dilemma, which discussed this problem, emerged in the 1960s.