Daily Comment (April 8, 2020)
by Bill O'Grady, Thomas Wash, and Patrick Fearon-Hernandez, CFA
[Posted: 9:30 AM EDT]
Yesterday's optimism about a potential peak in the coronavirus crisis is being undermined a bit today by reports of re-tightened lockdowns in some countries and the failure of EU finance ministers to agree on an aid program for hard-hit European countries.  We review all the key virus news along with other odds and ends below.
COVID-19:  Official data show confirmed cases have risen to 1,446,242 worldwide, with 83,424 deaths and 308,146 recoveries.  In the United States, confirmed cases rose to 399,929, with 12,911 deaths and 22,539 recoveries.  Here is the chart of infections now being published by the Financial Times: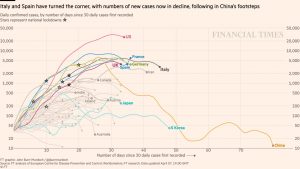 Virology
Real Economy
U.S. Fiscal Policy Response
Foreign Fiscal Policy Response
At yesterday's virtual meeting to hammer out fiscal aid for Europe's hard-hit countries, the EU's finance ministers failed to reach an agreement.  The ministers will reconvene on Thursday in hopes of agreeing on recommendations they can make to EU leaders, but last night's failure is still weighing on European stocks and Italian bonds so far today.

Press reports indicate the key holdouts were Italy and the Netherlands.

Italy, leading a group of mostly southern debtor countries that have been decimated by the virus crisis, is demanding the issuance of joint EU "coronabonds" to fund the aid, as well as the removal of any conditions on loans from the European Stability Mechanism.
The Netherlands, leading a group of northern creditor nations, is dead-set against mutual, EU-wide obligations and insists that any ESM loans be given on condition of economic reforms.

The president of the European Research Council―the EU's top scientist―has resigned after failing to persuade Brussels to fund a large-scale scientific program to fight the virus.
A day after Japanese Prime Minister Abe announced an economic support program valued at ¥108 trillion, or about 20% of GDP, skeptical economists say the true value is much less because it takes into account multiple spending programs already in place.  Toshihiro Nagahama, chief economist at the Dai-ichi Life Research Institute, estimates the true amount of additional spending is only ¥16.8 trillion (about $160 billion).
Odds & Ends:  Afghan and Taliban negotiators have broken off talks on a prisoner swap meant to pave the way toward a peace agreement, just weeks after U.S. Secretary of State Pompeo rescued the talks from a similar near-failure.