Daily Comment (April 7, 2020)
by Bill O'Grady, Thomas Wash, and Patrick Fearon-Hernandez, CFA
[Posted: 9:30 AM EDT]
After yesterday's strong market action, investors are again in risk-on mode based on optimism that the coronavirus pandemic may be peaking.  We report on all the key developments relating to the virus as well as building pressure for a cut in oil production and Chinese use of the pandemic as cover for more mischief in the South China Sea.
COVID-19:  Official data show confirmed cases have risen to 1,362,936 worldwide, with 76,373 deaths and 292,188 recoveries.  In the United States, confirmed cases rose to 368,449, with 10,993 deaths and 19,919 recoveries (though the recovery data is lagging).  Here is the chart of infections now being published by the Financial Times: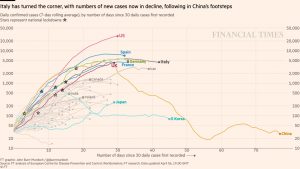 Virology
Real Economy
Financial Markets
U.S. Fiscal Policy Response
U.S. Monetary Policy Response
Foreign Fiscal Policy Response
Political Fallout
Global Oil Market:  Ahead of Thursday's virtual meeting between OPEC, Russia, and other major oil producers to address the Saudi-Russia price war, Saudi Arabia and its OPEC partners are warning that global storage capacity will soon be completely full and prices could fall further.  The warning aims to put pressure on Russia and other major producers, including the U.S. and Canada, to cut output on Saudi terms in order to support prices.
United States-China:  The U.S. State Department has issued a statement condemning China for using one of its coast guard ships to ram and sink a Vietnamese fishing boat in a disputed area of the South China Sea last week.  The incident suggests China is again trying to assert its sovereignty over the region while the world's attention is diverted by the coronavirus pandemic.