Daily Comment (April 29, 2020)
by Bill O'Grady, Thomas Wash, and Patrick Fearon-Hernandez, CFA
[Posted: 9:30 AM EDT]
The uptick in the markets today comes as coronavirus lockdowns continue to be softened around the world and several drug groups say they could have a COVID-19 vaccine within months.  The Fed ends its latest policy meeting today.  Overseas, it's still a mystery where Kim Jong Un is, while Russia has apparently sent yet another hit squad to kill an enemy overseas.
COVID-19:  Official data show confirmed cases have risen to 3,132,363 worldwide, with 217,947 deaths and 938,037 recoveries.  In the United States, confirmed cases rose to 1,012,583, with 58,355 deaths and 115,936 recoveries.  Here is the chart of infections now being published by the Financial Times: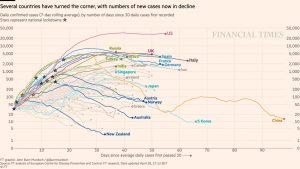 Virology
Real Economy
Financial Markets
U.S. Policy Responses
International Policy Responses
Political Fallout
United States:  The FOMC will wrap up its latest policy meeting today.  While no change is expected in the Fed's basic policy stance, the policymakers will release updated economic forecasts and Chairman Powell could provide additional color on policy going forward during his post-meeting news conference.
North Korea:  There is still no solid news on Kim Jong Un's whereabouts, but media reports say North Korean consumers have been panic-buying staples.  If even domestic residents of the Hermit Kingdom are sensing a potential crisis, it provides further evidence that an important development may be happening.
Russia-Czech Republic:  A Prague district mayor says he is under police protection after authorities informed him that he and two other Prague officials, including the city's mayor, were the targets of a Russian intelligence agent sent to the Czech capital to "liquidate" them.  The officials were apparently targeted for their role in removing a statue of a Soviet war hero from a public square in Prague.
Brazil:  The supreme court has authorized a police investigation into President Bolsonaro, days after Justice Minister Celso de Mello resigned and accused the president of crimes ranging from influence-peddling to obstruction of justice for trying to replace police officials investigating his family members.  The threat of a massive new political scandal and potential impeachment will likely be negative for Brazilian assets.
Lebanon:  As Lebanon's government begins lifting its coronavirus lockdown, protesters demanding economic and political reforms are already back in the streets staging violent demonstrations.