Daily Comment (April 28, 2020)
by Bill O'Grady, Thomas Wash, and Patrick Fearon-Hernandez, CFA
[Posted: 9:30 AM EDT]
Market sentiment continues to get a boost from the fact that many foreign governments and various U.S. states are easing their coronavirus restrictions.  As always, we review all the latest virus news below.  We also provide an update on the continued mystery of North Korean leader Kim Jong Un's whereabouts.
COVID-19:  Official data show confirmed cases have risen to 3,060,152 worldwide, with 212,056 deaths and 905,662 recoveries.  In the United States, confirmed cases rose to 988,469, with 56,253 deaths and 111,583 recoveries.  Here is the chart of infections now being published by the Financial Times: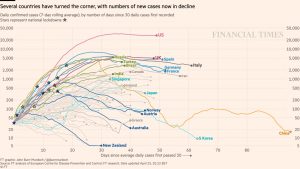 Virology
Real Economy
Financial Markets
U.S. Policy Responses
International Policy Responses
United States:  The FOMC begins its latest policy meeting today.  The policymakers are widely expected to leave the interest-rate policy unchanged when they announce their decision tomorrow.  However, given the wide range of support programs the Fed has undertaken to help cushion the economy from the COVID-19 crisis, all eyes will be on any potential new moves that might be announced in the accompanying statement.
North Korea:  Paramount leader Kim Jong Un remains out of sight, leaving foreign governments unsure about whether he is still alive and in control of the country.  South Korean officials insist Kim is well, but South Korea and the U.S. scrambled six reconnaissance planes to spy on North Korea yesterday amid rumors he is dangerously ill.  The North Korean government uses a highly refined system of secrecy and diversion to keep the outside world from knowing what's going on with its leader.