Daily Comment (April 26, 2016)
by Bill O'Grady and Kaisa Stucke
[Posted: 9:30 AM EDT] The FOMC meeting starts today; although there are no expectations of a change in policy at this meeting, we will be closely watching the balance of risks statement.  For the past few meetings, the Fed has mostly refused to comment on the balance of risks, but the wording has suggested more concern about growth and less about inflation.  A hawkish tone would be a statement suggesting that risks are currently balanced.  We do not expect that outcome given that current projections for Q1 are pointing to nearly flat growth.  On the other hand, there are a couple of data points suggesting the economy is improving.  First, total vehicle miles driven have made a new high.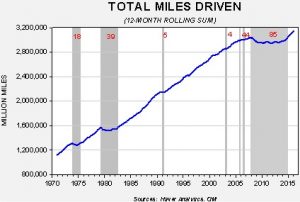 This chart shows total miles driven on a rolling 12-month basis.  Usually, we make a new high every month, although miles driven can hold for extended periods below the previous peak during recessions and periods of high gasoline prices.  We finally began making new highs in this measure at the end of 2014 and have seen robust growth since.  This data suggests the economy is on the mend and that the FOMC should not be overly dovish.
The other data point that will likely get close scrutiny is the labor force.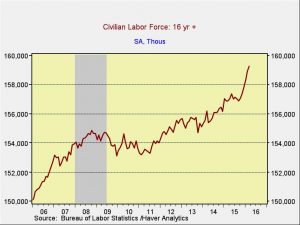 This chart shows the labor force, which includes all those working and looking for work.  Labor force growth has been rather lackluster during this recovery until recently.  In fact, this year the labor force is growing at a 1.5% rate (6-month rate of change) compared to a similar growth rate average of 0.7% from 2010 to 2015.  The surge in the labor force means that there is probably more slack in the labor market that will allow the Fed to remain easier for longer.  Simply put, the Fed doesn't want to stomp on the labor market just when conditions are starting to improve.
Deputy Crown Prince Salman of Saudi Arabia unveiled the broad outlines of an economic restructuring plan that, if implemented, would fundamentally change the nature of the kingdom.  The plan is to reduce Saudi Arabia's dependence on oil by partially privatizing Saudi Aramco and working to boost investment to create new industries in the country.  There is also talk about easing social and religious restrictions to employ women in the workforce and increase "entertainment."  The plan is extraordinarily ambitious and fraught with risk.  The partial privatization of Saudi Aramco will require financial transparency that will make it difficult to divert profits to support fiscal spending and the lifestyles of the royals.  The reforms, if implemented successfully, would put the kingdom on a more sustainable path to development.  However, powerful parts of the political system will be hurt by these changes and so it remains to be seen if the young prince can bring these plans to fruition.  If he cannot, and civil strife develops, it may be a bullish event for crude oil.