Daily Comment (April 22, 2020)
by Bill O'Grady, Thomas Wash, and Patrick Fearon-Hernandez, CFA
[Posted: 9:30 AM EDT]
Today is Earth Day and also Lenin's birthday.  But please don't accuse us of implying a connection!  Rather, we're focused today on the latest coronavirus news, including the Senate's passage of new PPP funds, and signs that oil prices may be stabilizing.
COVID-19:  Official data show confirmed cases have risen to 2,585,468 worldwide, with 178,845 deaths and 695,324 recoveries.  In the United States, confirmed cases rose to 825,306, with 45,075 deaths and 75,673 recoveries.  Here is the chart of infections now being published by the Financial Times: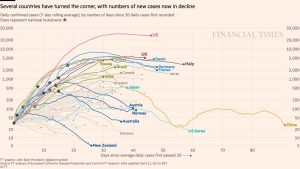 As shown in the graph, many major countries have passed the "bend in the curve" and are seeing slower case growth, but few are exhibiting sharp declines in the number of new infections.  In addition, many countries are now revising their past death counts upward as further investigation shows many people likely died from the virus without it being realized.
Real Economy
U.S. Policy Responses
International Policy Responses
Hong Kong:  Chief Executive Carrie Lam reshuffled her cabinet, naming new secretaries for technology, financial services, home affairs, mainland affairs and the civil service.  The move, which was approved (or initiated) by Beijing, is being interpreted as an effort to tighten control over city employees and relations with the Chinese government.
North Korea:  Despite press reports this week that North Korean leader Kim Jong Un was in critical condition after emergency heart surgery, South Korean officials say Kim appears to be proceeding with his normal schedule, and there is no sign that North Korean military forces are under the kind of alert that would be expected in a crisis.  U.S. officials admit they still have no confirmation on Kim's condition.