Daily Comment (April 21, 2020)
by Bill O'Grady, Thomas Wash, and Patrick Fearon-Hernandez, CFA
[Posted: 9:30 AM EDT]
Happy Tuesday!  Or if not "happy," at least things are "interesting."  U.S. oil prices yesterday not only went negative, but deeply negative.  As always, we discuss the coronavirus crisis and its latest implications below, along with reports of a new government in Israel and indications that North Korean leader Kim Jong Un may be dying.
COVID-19:  Official data show confirmed cases have risen to 2,495,994 worldwide, with 171,652 deaths and 658,802 recoveries.  In the United States, confirmed cases rose to 787,960, with 42,364 deaths and 73,527 recoveries.  Here is the chart of infections now being published by the Financial Times: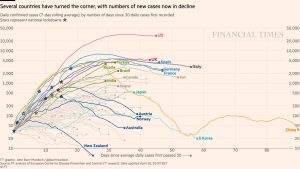 As shown, many major countries have passed the "bend in the curve" and are seeing slower case growth, but few are exhibiting sharp declines in the number of new infections.
Real Economy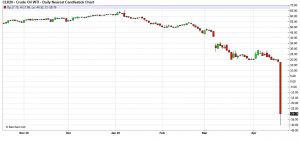 U.S. Policy Responses
International Policy Responses
Israel:  Prime Minister Netanyahu and his rival, Benny Gantz, have agreed to form a unity government, averting the prospect of a fourth election in the last year.
North Korea:  Citing a U.S. official with direct knowledge, press reports say North Korean leader Kim Jong Un is in critical condition after undergoing emergency heart surgery at a private villa in Pyongan Province.
---
[1] This is Bill "speaking" here.