Daily Comment (April 20, 2020)
by Bill O'Grady, Thomas Wash, and Patrick Fearon-Hernandez, CFA
[Posted: 9:30 AM EDT]
Good morning and happy Monday!  Equities are lower this morning, but the market catching most of the attention is oil.  In equities, there is a large short position developing against the S&P 500.  We update the COVID-19 news.  Here are the details:
COVID-19:  The number of reported cases is 2,416,135 with 165,939 deaths and 632,983 recoveries.  Here is the FT chart: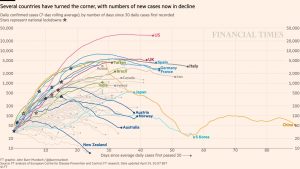 The U.S. data is showing a flattening.  We continue to note the data because it is the best we have, but data collection is problematic.  The anecdotal reports strongly suggest serious undercounting of infections and fatalities, especially in emerging economies.
The virus news:
The policy news:
The economic news:
The market news:
The foreign policy news:
Odds and ends:  Bondholders are not impressed with Argentina's restructuring proposal.  North Korea disputes reports of correspondence between Kim and President Trump.