Daily Comment (April 19, 2018)
by Bill O'Grady and Thomas Wash
[Posted: 9:30 AM EDT]
Castro era coming to an end: Today, Raul Castro, brother of Fidel Castro, is expected to step down as Cuba's president. Castro will be replaced by his vice president, Miguel Diaz-Canel Bermudez, but will still retain his role as head of the Communist Party until 2021. Miguel Diaz-Canel will be the first non-Castro president since the end of the Cuban Revolution in 1959. His ascension to the presidency will likely be well-received by many Cubans, especially the younger population, as the country is in the midst of economic stagnation. Since Diaz-Canel has maintained a relatively low profile prior to his nomination, it is unclear what changes he is likely to make, if any. Many speculate that his nomination represents a subtle break in Cuban political continuity as he was born after the Cuban Revolution. At this moment, it is unclear what his nomination means for U.S.-Cuba relations, but it was reported that he was skeptical of Raul Castro's attempt to normalize relations with the U.S.[1] Tensions have been elevated between the two countries following a sonic attack on the U.S. embassy in Cuba that left diplomats injured.
Complete denuclearization in NK? According to South Korean President Moon Jae-in, North Korea has expressed interest in an agreement to completely denuclearize without the condition of U.S. troop withdrawal from the Korean Peninsula.[2] This marks another breakthrough in normalizing relations between the two Koreas; yesterday the countries agreed to hold talks to formally end the Korean War. The caveat to possible complete denuclearization is that the U.S. would have to agree to end hostile policies against North Korea and guarantee its security. The comments appear to be a prelude to the proposed meeting between President Trump and Kim Jong-un. President Trump has expressed a limited amount of optimism regarding the meeting, stating that he is prepared to pull out of the meeting if it is not "fruitful." We will continue to monitor this situation.
Return to $100 a barrel? Oil prices touched four-year highs due to speculation that OPEC will extend supply curbs into 2019. There have been rumors that senior Saudi officials are pushing to force prices to reach $80 or even $100 a barrel in order to boost the IPO price as well as support some Saudi economic initiatives, such as Vision 2030. Energy stock prices also rose on the news.
Energy recap: U.S. crude oil inventories fell 1.1 mb compared to market expectations of a 0.6 mb draw.

This chart shows current crude oil inventories, both over the long term and the last decade. We have added the estimated level of lease stocks to maintain the consistency of the data. As the chart shows, inventories remain historically high but have declined significantly since last March. We would consider the overhang closed if stocks fall under 400 mb.
As the seasonal chart below shows, inventories are usually rising this time of year. This week's decline in stockpiles is counter-seasonal. Every week that fails to show a build on the seasonal pattern is a week where the seasonal factors become less bearish. We are approaching the end of the seasonal build period; assuming a strong summer driving season, this chart is bullish for crude oil.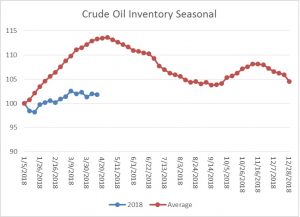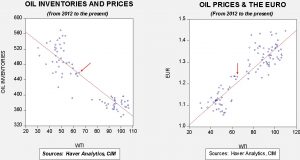 Based on inventories alone, oil prices are undervalued with the fair value price of $64.99.  Meanwhile, the EUR/WTI model generates a fair value of $74.57. Together (which is a more sound methodology), fair value is $71.40, meaning that current prices are below fair value. Oil prices have been rising on geopolitical tensions and bullish fundamentals. We still view oil prices as undervalued but the degree of undervaluation is diminishing. However, as the above chart on seasonal pattern suggests, declining inventories this summer portends higher prices.
---
[1] https://www.washingtonpost.com/world/the_americas/in-cubas-national-assembly-raul-castro-marks-last-moments-of-his-familys-rule/2018/04/18/82f82cd4-4293-11e8-b2dc-b0a403e4720a_story.html?utm_term=.a3d5e1585c0c
[2] https://www.reuters.com/article/us-northkorea-missiles-moon/south-koreas-moon-says-north-seeking-complete-denuclearization-idUSKBN1HQ119