Daily Comment (April 17, 2020)
by Bill O'Grady, Thomas Wash, and Patrick Fearon-Hernandez, CFA
[Posted: 9:30 AM EDT]
Good morning and happy Friday!  Equities are rebounding this morning on a positive drug trial.  China's GDP turns negative.  We update the COVID-19 news.  Here are the details:
COVID-19:  The number of reported cases is 2,169,022 with 146,071 deaths and 522,264 (yes, that's down from yesterday) recoveries.  Here is the FT chart: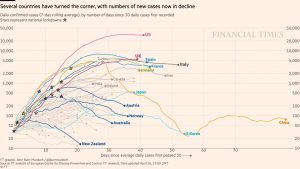 There is a clear bend in the U.S. curve, which is good news.
The virus news:
The policy news:
The economic news:
Although it comes as no great surprise, China's Q1 GDP fell 6.8% from last year, and -9.8% from Q4, for an annualized decline of 34%. This is the first decline in China's GDP since it began reporting on a quarterly basis.  During the "Great Leap Forward," which ran from 1958 to 1960, China experienced a -27.3% drop in GDP in 1961.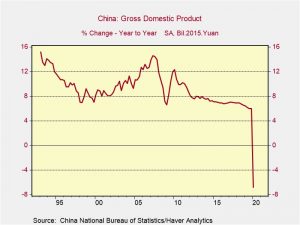 One interesting tidbit; excavator sales are jumping in China on expectations that there will be a jump in stimulus spending on public works.
As we reported yesterday, there is a looming bottleneck developing in the meat industry as the processors close due to worker infections. This is leading to shortages in stores and involuntary herd expansion for farmers and ranchers.
There has been a remarkable adjustment by manufacturers to repurpose assembly lines for medical supplies.
The market news:
The foreign policy news:
Odds and ends:  Argentina has made a restructuring offer for its debt.  It is looking for a three-year grace period from lenders.  The Navy is accusing Iran of harassing Persian Gulf shipping.  Russian oil firms are fighting over the allocation of production cuts.  Despite everything, the Johnson government in the U.K. refuses to ask for a Brexit extension.