Daily Comment (April 17, 2018)
by Bill O'Grady and Thomas Wash
[Posted: 9:30 AM EDT] It was mostly quiet overnight.  Continued robust earnings are lifting equities this morning.  Here is what we are watching:
Abe to Florida: Japanese PM Abe will meet today with President Trump at Mar-a-Lago.  The meetings come at a difficult time for Japan.  Abe is facing domestic scandals that have weakened his popularity ratings, and he faces party elections in the fall which may lead to his ouster as PM.[1]  Japan was caught off-guard by the White House's decision to hold talks with North Korea.  Abe fears the U.S. will focus on mitigating North Korea's ICBM threat while leaving a potent short-range missile program in place, which threatens Japan.  The anti-trade rhetoric of the Trump administration also has to be a concern as Japan runs a large bi-lateral trade surplus with the U.S.  The chart below shows the rolling 12-month goods trade deficit with Japan.  Exports represent about 18% of Japan's GDP.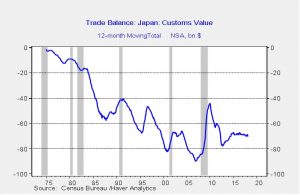 The "dirty little secret" for Japan is that the JPY is deeply undervalued.  The chart below is Japan's parity calculation using relative CPI.  The current fair value is ¥60.56 to the USD compared to the current ¥107.00.  A leg of Abenomics was a weaker JPY to buy time for restructuring.  In reality, the restructuring didn't really occur (true restructuring would require increasing income to the household sector and reducing it to the corporate sector) so allowing the JPY to remain weak is counterproductive to U.S. interests.  So far, the president hasn't figured out the exchange rate issue but, at some point, we expect him to use this tool in his trade policy.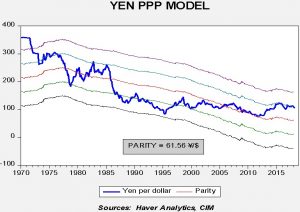 We expect these meetings will be frustrating for PM Abe.  President Trump should focus on North Korea.  Japan lacks other allies and thus will need to accept whatever the U.S. offers.  Thus, the goal for Abe should be to at least give the appearance of camaraderie.
China's GDP: This report is always taken with a degree of skepticism because it is so stable.  Growth rose 6.8%, although independent estimates put the real growth number closer to 4.8%.   Property investment rose 10.4% after being in single-digits since 2014.  Infrastructure spending rose 9.0%, which is unusually slow; usually this number rises between 15% and 20%.  Overall, China continues to ensure growth remains solid even if that means "goosing" real estate activity.  On a trade note, China indicated it will impose surcharges on U.S. sorghum exports of 178.6% as part of a "dumping" allegation.  China did indicate the finding is "preliminary," which may mean it will be adjusted.  The U.S. exports around $1.0 bn per year of sorghum.  The majority of sorghum is grown in western Kansas, eastern Colorado and western Texas with a belt of production in south-central South Dakota.  However, some of the crop is planted in most states; nearly 40 of the lower 48 states record some sorghum planting.
Fed governor nominees: The White House confirmed it is nominating Richard Clarida and Michelle Bowman for two open positions on the Fed's Board of Governors.  Clarida is a professor at Columbia University and is also on the payroll of PIMCO.  Bowman has extensive experience in community banking and will fill that position on the board.  We expect both to sail through the nominating process.  We have adjusted our "hawk/dove" spreadsheet.  Our current read on the two new nominees is that they are both centrists.  We have also pulled John Taylor from our potential roster of vacancies.  Marvin Goodfriend remains on the list, although his performance during his nomination hearing was weak enough that the administration may consider a different candidate.  We have also moved Williams to the NY FRB, although Bill Dudley will be in office until June.  We are estimating that a moderate will replace Williams at the San Francisco FRB.  Below is our view of the current composition of the board.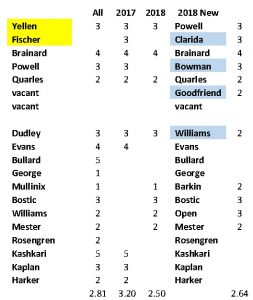 The current composition including projected members has an average of 2.64, making it mildly hawkish.  Last year's voters averaged 3.20, a mildly dovish composition.  We are continuing to research Chair Powell and may change his position to a more hawkish leaning.  But, for now, we believe the new governors make the voting roster a bit less hawkish.
Russia cyberwar: The U.S. and U.K. issued warnings that Russia is targeting Western internet infrastructure with intrusions into home and business routers.  By taking control of routers, Russia can control internet traffic.  On a related note, President Trump decided to delay expected sanctions on Russia tied to its support of Assad.  UN Ambassador Haley indicated these would occur on the weekend news shows, but the president didn't feel comfortable executing them.
---
[1] This is a possible, but unlikely, outcome.