Daily Comment (April 16, 2020)
by Bill O'Grady, Thomas Wash, and Patrick Fearon-Hernandez, CFA
[Posted: 9:30 AM EDT]
Good morning!  Equities are rebounding this morning.  We update the COVID-19 news and initial claims.  The Weekly Energy Update is available.  Here are the details:
COVID-19:  The number of reported cases is 2,076,015 with 138,000 deaths and 522,881 recoveries.  Here is the FT chart: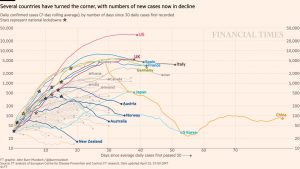 There is a clear bend in the U.S. curve, which is good news.
The virus news:
The focus for governments is moving from mitigation of the virus spread to relaxing social distancing to foster economic recovery. These actions are occurring across the developed world:
Meanwhile, other nations remain on the left side of the bell curve and are coping with rising infections and fatalities.
As the U.S. and others try to figure out how to emerge from lockdown, much of the decision process is dependent on immunity. There is much we still don't know about COVID-19.  There is an assumption that once a person contracts and survives the disease, they have some degree of immunity.  That is a reasonable assumption that may or may not be true.  Or it may be more complicated than it seems.  A recent paper in Science raises the possibility that COVID-19 may be with us in one form or another for a while; we may cycle through flare-ups and occasional lockdowns in the future.  In other words, this may not be a "one and done" type disease.
There are reports that the virus not only attacks the respiratory system, but that it may have lingering neurological effects as well.
There are reports Iran is dramatically undercounting COVID-19 fatalities. Accurate data on this virus has been a problem.  According to today's report, Iran has 182,436 cases with 6,771 fatalities.  If this claim of undercounting is correct, the number dead could be two times higher, or nearly 14k.
Political tensions between the U.S. and China are elevated. For example, Chinese export controls are preventing the export of medical supplies.  At the same time, doctors in both nations are continuing to cooperate.  China is launching studies into immunity and asymptomatic cases, and also examining if air conditioning airflows can spread the virus.
The policy news:
One of the challenges for the Fed from its policy of expanding the balance sheet is what assets are included. In a sense, what gets included is a political decision.  For example, when the Fed decided to start buying some levels of high yield, where does the bank draw the line?  In other words, who gets excluded and why?

The Fed has expanded its purchases of muni paper but is limiting its purchases to large cities and states. Which, of course, is leading smaller government entities to complain.  We suspect the Fed is expecting states to come to the aid of smaller cities.
We also suspect the Fed's reason for this type of support was to avoid systemic risk in the muni market. However, avoiding systemic risk may not mean that all participants are saved.  Given the political nature of this decision, we would not be shocked to see the Fed expand to buy a broader swath in this market.

There are reports that lenders can seize stimulus checks to address delinquent debt. If the practice becomes widespread, the negative public relations from such actions will be grim.
The small business lending program either has, or nearly has, exhausted its funding. Additional funding is being held up due to partisan divisions.
The stimulus checks are starting to hit household accounts. Early reports suggest the money is mostly going to food.
Reports of rent relief requests, even from large tenants, are rising.
The economic news: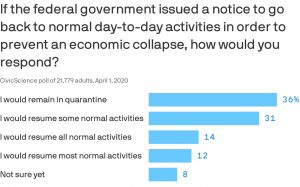 Finally, yesterday's retail sales data confirms the shift caused by the lockdown: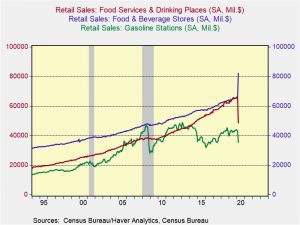 The market news:
The foreign policy news:
Odds and ends:  An Islamic State cell operating in Germany was planning attacks on U.S. bases there.  Their plans were thwarted when the group was arrested.  China may be testing low-power nuclear weapons in violation of nuclear testing treaties.