Daily Comment (April 15, 2021)
by Bill O'Grady, Thomas Wash, and Patrick Fearon-Hernandez, CFA
[Posted: 9:30 AM EDT] | PDF
Good morning all!  Risk assets are higher this morning in a quiet trade.  We have a long roster of economic data this morning which we cover in detail below.  Our coverage begins with the Beige Book, which turned equities lower yesterday.  International news follows, with the U.S. announcing the withdrawal of American troops from Afghanistan and sanctions on Russia.  Economics and policy are up next, with a discussion of money markets.  China news follows, and we close with our pandemic coverage.
Beige Book:  The Beige Book is a report from all the Fed district banks that discusses economic conditions.  The goal is to offer a regional picture of the economy.  Overall, the report showed a stronger economy, which is good news, but rising price pressures, which were negative for equity markets yesterday.  In related news, Chair Powell spoke to the Economic Club of Washington yesterday, reiterating that policy rates will stay low for an extended period.  However, he also noted that bond purchases would be tapered before rate hikes would occur.
International news:  The withdrawal from Afghanistan begins, and the U.S. will sanction Russia.
 Economics and policy:  Regulators are making another attempt to reduce the risks from money markets.
The money market fund was initially created as a sort of regulatory arbitrage to a retail banking industry constrained by Regulation Q, which set maximum deposit rates.[1] The money market has become a key supplier of funds for the non-bank financial system.  Unfortunately, as the Great Financial Crisis showed, money market funds are "runnable."  During 2008-09, money market funds came under pressure as some of their assets (usually commercial paper) defaulted, and the funds came under threat to "break the buck."  Since then, regulators have struggled to address the problems of the product.  Since 2008, money market funds have faced occasional problems; for example, last March, investors pulled funds from prime money market funds, and the Fed had to put a backstop in place.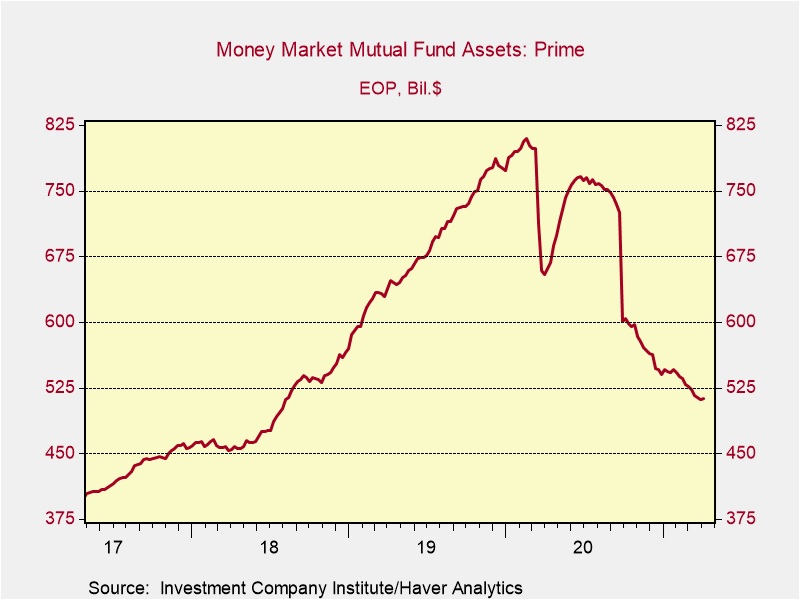 The Treasury is considering new rules to reduce the systemic risk money markets have created.  The industry is concerned that the rules will make money markets indistinguishable from bank deposits.  That development would pretty much end money markets as we know them.  But, as banking showed during the 1930s, the lack of deposit insurance can lead to bank runs.  An obvious solution would be for the value of money market funds to fall below $1 per share.  Investors wanting a higher yield should be willing to accept some degree of risk.  But the industry has built its business model as being identical to bank deposits, so they will fight such measures.  The regulatory decisions will be important because money markets are the primary source of funds for the non-bank financial system.  At the same time, it doesn't make much sense to allow runnable funding for this part of the market.
China:  Chinese regulators continue to crack down on leverage, and tensions with Taiwan and Japan remain elevated.
COVID-19:  The number of reported cases is 138,422,960 with 2,975,830 fatalities.  In the U.S., there are 31,422,960 confirmed cases with 564,406 deaths.  For illustration purposes, the FT has created an interactive chart that allows one to compare cases across nations using similar scaling metrics.  The FT has also issued an economic tracker that looks across countries with high-frequency data on various factors.  The CDC reports that 250,998,265 doses of the vaccine have been distributed with 194,791,836 doses injected.  The number receiving at least one dose is 123,917,385, while the number of second doses, which would grant the highest level of immunity, is 76,681,252.  The FT has a page on global vaccine distribution.  The weekly Axios map shows rising cases in about half the country.
Virology
---
[1] This is why one would get a toaster if they opened an account at a bank or savings and loan in the late 1970s.  The toaster represented interest the firm couldn't legally pay the depositor.