Daily Comment (April 15, 2020)
by Bill O'Grady, Thomas Wash, and Patrick Fearon-Hernandez, CFA
[Posted: 9:30 AM EDT]
Today's risk-off stance in the markets comes as we're finally getting earnings and economic data that more fully reflect the impact of the coronavirus crisis.  Several figures have come in worse than anticipated (see below), tempering the recent positive vibe from government planning for an economic reopening.
COVID-19:  Official data show confirmed cases have risen to 1,997,321 worldwide, with 128,011 deaths and 500,996 recoveries.  In the U.S., confirmed cases rose to 609,685, with 26,059 deaths and 49,966 recoveries.  Here is the chart of infections from the Financial Times: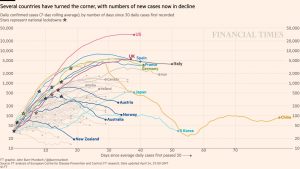 Virology
Real Economy
U.S. Policy Responses
International Policy Responses
Political Fallout
Iran:  Iranian naval forces seized a Hong Kong-flagged tanker and redirected the vessel into Iranian waters before releasing it, prompting a warning to ships along the Persian Gulf's key oil export route.  The ship was reportedly searched on suspicion of smuggling, but the incident is consistent with Iran's recent shipping harassment.  If this signals greater Iranian aggressiveness in the region, it could help provide a boost to global oil prices, although the market is still likely to be driven by the massive problem of oversupply.