Daily Comment (April 14, 2020)
by Bill O'Grady, Thomas Wash, and Patrick Fearon-Hernandez, CFA
[Posted: 9:30 AM EDT]
Today's uptick in the markets appears to stem in large part from chatter about COVID-19 lockdown restrictions being eased in the coming weeks.  Of course, other data shows that in some countries new virus cases and deaths are still rising strongly, so it's still too early to call the "all clear."  We review all the virus developments and other news below.
COVID-19:  Official data show confirmed cases have risen to 1,934,583 worldwide, with 120,863 deaths and 464,398 recoveries.  In the United States, confirmed cases rose to 582,594, with 23,649 deaths and 44,308 recoveries.  Here is the chart of infections now being published by the Financial Times: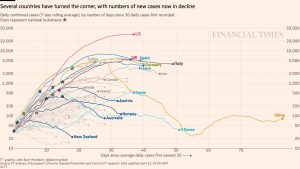 Virology
Real Economy
U.S. Policy Response
Foreign Policy Response
Markets
Odds & Ends:  Top negotiators from the EU and the U.K. will hold a call tomorrow in an effort to restart negotiations on the U.K.'s post-Brexit relationship with the EU, after talks were curtailed by the virus crisis last month . . . North Korea has carried out what appears to be its fifth short-range missile test of the year . . . Israeli President Rivlin said he would give Benny Gantz and incumbent Prime Minister Netanyahu two more days to form a government, after they informed him they were struggling to agree on a new unity government but still making progress.