Daily Comment (April 25, 2022)
by Patrick Fearon-Hernandez, CFA, and Thomas Wash
[Posted: 9:30 AM EDT] | PDF
Our Comment opens with an update on the Russia-Ukraine war.  We next review a range of international and U.S. developments with the potential to affect the financial markets today.  Perhaps the most important development on that score is that French President Macron has won re-election by a wider-than-expected margin.  Finally, we wrap up with our coronavirus coverage, where the news is much less positive.  The latest data shows COVID-19 continues to spread rapidly in China.  That raises a risk that the government's strict pandemic lockdowns will slow global growth and exacerbate inflation going forward, which goes far toward explaining the weakness in global risk assets today.
Russia-Ukraine:  Over the weekend, Russian forces continued to focus on conducting dispersed, small-scale probes against Ukrainian positions in the Donbas region of eastern Ukraine rather than holding back, regrouping, and resupplying, as some analysts believe they need to do.  Reports indicate those probes have produced virtually no significant territorial gains for the Russians.  In addition to their probing in the Donbas, the Russians also continue to attack military and civilian targets throughout the country with artillery, missiles, and aerial bombardment.  For example, they are reportedly planning yet another effort to clear the Ukrainian defenders holed up in the Azovstal Steel Plant at the southeastern port city of Mariupol, and over the weekend, they staged a missile attack against a large residential building in Odesa.  Meanwhile, consistent with the evidence we noted weeks ago, the Russian state-owned media outlet Interfax quoted a Russian general saying the military's war aims included taking control of not only the Donbas but all of Ukraine's southern coast and perhaps even the country of Moldova.  The statement underscores the likelihood that President Putin's aggression would not be satisfied by taking a chunk of Ukraine.  The risk that he could be seeking much more territory will continue to keep Western European nations on edge and should help ensure that the reinvigoration of NATO and the increase in Western defense budgets will continue.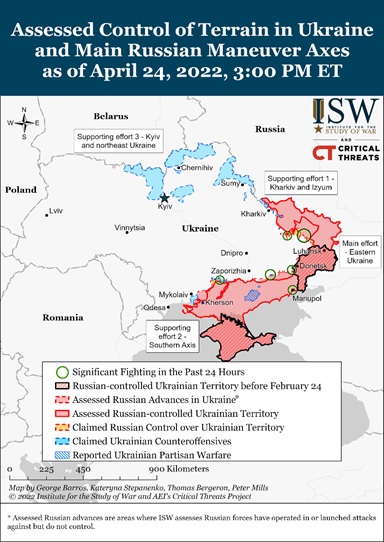 France:  In yesterday's run-off presidential election, centrist President Emmanuel Macron defeated far-right populist Marine Le Pen by a bigger-than-expected margin of about 58% to 42%.  Macron's re-election will likely be taken as a positive for European markets since it means Le Pen won't be in a position to follow through on her nationalist, socially divisive policy proposals.  Some examples include her calls for France to take back power from the EU, pull out of NATO's military command, align itself more closely with Russia, and erect new trade and immigration barriers.
Despite Le Pen's loss, France and Europe, in general, will probably continue to face social tensions, political fracturing, and challenges from right-wing populists.  We note that France's voter turnout yesterday was only 72%, its lowest participation rate since 1969.  Le Pen's performance was also the best by a right-wing populist in France since the end of World War II.  As in the U.S., popular discontent in Europe reflects a number of frustrations related to globalization, technological change, slowing economic growth, income and wealth inequality, and elitist politicians who often seem out of touch with the average citizen, especially among the middle classes.
Even though Macron will struggle to manage these challenges at home during his second term, the European Union will be much more stable and calmer than it would have been with Le Pen in the Élysée Palace.  We expect Macron to continue to push for the EU to develop its own independent, indigenous diplomatic and military power.  That may be disconcerting for those who look back with nostalgia on Europe's relative weakness and deference to the U.S. in the decades when it was recovering from World War II.  However, if Europe becomes stronger and more assertive while remaining generally in sync with U.S. policy goals, it will take some of the military, diplomatic, and economic burden off the U.S. as it tries to maintain its position as a leading global power.
Macron's predisposition, along with the pressure he still faces from the right-wing nationalists, will likely also lead him to assert France's power within the EU.  That may seem a distant threat to many people who focus on the "German Problem" and how it has played out over the last century, and to those blinded by France's inability to defend itself in World War II.  However, it's important to remember that France has been a dominant European power for far more of the last two thousand years than Germany has.  For much of those two thousand years, Europe quaked at the prospect of French armies on the march.  It's no coincidence that the American revolutionaries turned to France, the superpower of the day, to serve as midwives for their independence in the late 1700s.  With this history in mind, it will be interesting to see if Macron can strengthen and stabilize France and make it more assertive in European and global politics, especially as Germany has shown that it has apparently lost the will to power.
Slovenia:  In another blow to Europe's right-wing populism, Prime Minister Janša's party suffered a heavy defeat in yesterday's parliamentary elections.  The Freedom Movement, a leftist Green party taken over and revamped by businessman Robert Golob only in January, received around 33% of the vote, compared with 28% for Janša's Slovenian Democratic Party.
U.S. Technology Sector:  Press reports indicate Twitter (TWTR, $48.93) has caved billionaire Elon Musk and his effort to buy the company.  Reports say the two sides worked through the night to hash out a deal that would be valued at $54.20 a share, although there are no guarantees they will reach one.
U.S. Labor Market:  New data shows that job-switchers are often reaping double-digit pay increases.  According to a survey by ZipRecruiter, 64% of recent job-switchers said their current job provides more pay than their previous job. Among these workers, nearly half received a raise of 11% or more, and nearly 9% are now making at least 50% more.
The big pay gains show how workers have gained bargaining power in the midst of today's severe labor shortage.
The data also suggest that large increases in wage income may continue, giving workers more purchasing power and helping keep inflation high.
Global Food Inflation:  Global palm oil prices have shot higher, and the Indonesian rupiah has dropped today after Jakarta levied a blanket ban on exports of the edible oil.  The action is in a bid to contain surging food prices resulting from the war in Ukraine.
COVID-19:  Official data show confirmed cases have risen to  509,566,779 worldwide, with 6,218,302 deaths.  The countries currently reporting the highest rates of new infections include South Korea, Germany, France, and Italy.  In the U.S., confirmed cases rose to 80,984,943, with 991,254 deaths.  (For an interactive chart that allows you to compare cases and deaths among countries, scaled by population, click here.)  In data on the U.S. vaccination program, the number of people considered fully vaccinated now totals 219,338,297, equal to 66.1% of the total population.
 In the U.S., the Omicron BA.2 variant continues to spread, but it is still generating relatively few serious illnesses or hospitalizations.  The seven-day average of people hospitalized with confirmed or suspected COVID-19 came in at 15,594 yesterday, up just 4% from two weeks earlier.  Because of the low level of hospitalizations and general fatigue with the pandemic, the recent outbreak is generating few new policy responses.