Daily Comment (April 20, 2022)
by Patrick Fearon-Hernandez, CFA, and Thomas Wash
[Posted: 9:30 AM EDT] | PDF
Our Comment today begins with an update on the Russia-Ukraine war.  Russian forces continue to ratchet up their attacks on eastern and southern Ukraine, and the U.S. is preparing a new shipment of artillery and other heavier arms.  We next review a range of international and U.S. developments with the potential to affect the financial markets today.  We end with the latest news on COVID-19.  For the first time in quite a while, there are many new developments on the pandemic, especially in China.
Russia-Ukraine:  Russian forces continue to ratchet up their attacks on the Donbas region of eastern Ukraine and the country's southern coast, with a particular focus on mopping up the remaining Ukrainian defenders of Mariupol.  However, military analysts continue to debate whether the Russians are really ready to launch their new offensive or whether they are moving prematurely before fully regrouping and re-equipping from their failed attacks on western and northern Ukraine.  Meanwhile, after a call with European allies, President Biden said the U.S. would send additional artillery, anti-armor, and anti-aircraft weapons to Ukraine.  That aid package is likely to be formally announced in the coming days.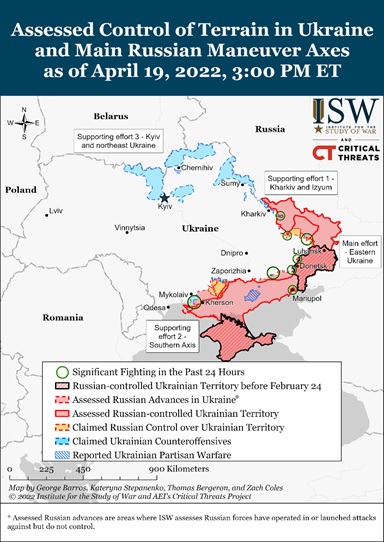 Sweden's biggest-selling newspaper has endorsed the country joining the NATO alliance, and an opinion poll showed a record number of Swedes support the idea as well.  The news adds to the evidence that Russian President Putin's invasion of Ukraine has backfired on him by reinvigorating the West and strengthening its alliances.

The Swedish newspaper endorsement is especially important because it came from a publication affiliated with the ruling Social Democratic Party, whose leaders have been resistant to the country joining NATO.
Separately, Finland's parliament today will begin debating its security arrangements; all signs point to the country filing an application to join NATO in the coming weeks, ahead of a June summit of the alliance.
Given that joining NATO is a long-term commitment, any move by Sweden and Finland to enter the alliance would help confirm that the European security situation has changed permanently.  That would imply that the many ramifications of the Russian invasion—from accelerating deglobalization to spurring increased defense budgets—will likely be long-lasting.

In the realm of energy sanctions on Russia, leaders in Germany continue to resist restarting the country's nuclear power plants to help wean it off Russian oil and gas.  In addition, Algeria is finding it difficult to boost shipments to Europe because of years of underinvestment in its energy sector.
France:  President Macron and far-right challenger Marine Le Pen tonight will hold their final debate before Sunday's presidential run-off election.  Recent polling shows Macron has slightly opened up his lead over Le Pen and might win the election by a margin of 55% to 45%, but we think Le Pen could still pull off an upset.  Because of her vow to reduce France's deference to the EU and pull the country out of NATO's military command, a Le Pen win would likely be very negative for European equities.
China-Solomon Islands:  The Chinese government said Foreign Minister Wang and his Solomon Islands counterpart have already signed a controversial security agreement, appearing to grant China the right to dock warships in the Solomon Islands, just 1,200 miles off the northeast coast of Australia.  A draft of the deal circulating on the internet indicated it would also allow China to use its military forces to protect Chinese citizens and investments there.
The secret signing of the deal comes despite Australian expressions of concern and the impending arrival of a U.S. diplomatic delegation to discuss it.
China's push for the deal reflects its aggressive approach to extending its military power throughout the Asia-Pacific region.  A Chinese presence in the Solomon Islands would potentially pose a grave threat to Australian security and U.S. interests in the region (see map on the next page).
For investors, the takeaway is that frictions continue to grow between China and the U.S.-led bloc of liberal democracies in the Asia-Pacific.  Those frictions will keep geopolitical risks high and threaten to further weigh on U.S.-China capital flows, which, in turn, would likely mean continued regulatory risk for Chinese equities.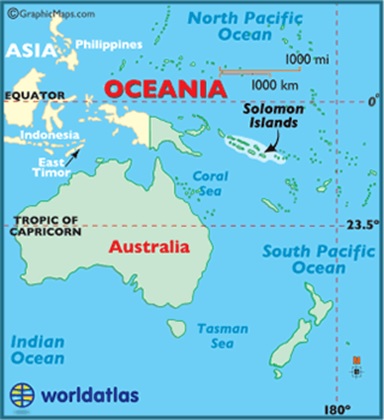 U.S. Debt Markets:  Bond investors have modestly boosted their buying so far this morning, driving the yield on the 10-year Treasury note down slightly to 2.888%.  However, recent trends point to potential problems down the road for the legions of low-rated companies that borrowed at floating rates last year.  Higher costs for those loans could also end last year's big buy-out boom, undercutting valuations for target companies.
U.S. Housing Market:  As we reported in yesterday's Comment, we're only now seeing the first signs that rising interest rates may start to weigh on the housing market.  As home prices keep surging beyond many people's ability to pay, "YIMBY" activists are agitating for easier zoning rules and less stringent regulations on building new supply, especially in dense, costly cities on the coasts.  YIMBY stands for "yes in my back yard."
Global Economy:  In its latest World Economic Outlook, the IMF cut its forecast for worldwide economic growth in 2022 to just 3.6%, down from an interim January forecast of 4.4% and far weaker than the 6.1% growth in 2021.
COVID-19:  Official data show confirmed cases have risen to 506,120,436 worldwide, with 6,204,345 deaths.  Currently, the countries reporting the highest rates of new infections include South Korea, Germany, France, and Vietnam.  In the U.S., confirmed cases have risen to 80,732,936, with 989,366 deaths.  (For an interactive chart that allows you to compare cases and deaths among countries, scaled by population, click here.)  In data on the U.S. vaccination program, the number of people considered fully vaccinated now totals 218,996,86, equal to 66.0% of the total population.
 In the U.S., the Omicron BA.2 variant continues to spread, but it is still generating relatively few serious illnesses or hospitalizations.  The seven-day average of people hospitalized with confirmed or suspected COVID-19 came in at 14,790 yesterday, down 4% from two weeks earlier.