Daily Comment (April 12, 2023)
by Patrick Fearon-Hernandez, CFA, and Thomas Wash
[Posted: 9:30 AM EDT] | PDF
Our Comment today opens with updated projections for global economic growth from the International Monetary Fund.  We next review a wide range of other international and U.S. developments with the potential to affect the financial markets today, including new evidence that China has reverted to its old strategy of infrastructure investment to boost economic growth.
Global Economic Growth:  The IMF released updated forecasts yesterday showing global economic growth will slow from 3.4% in 2022 to just 2.8% in 2023.  The updated forecast for 2023, contained in the institution's latest World Economic Outlook, is slightly lower than the 2.9% figure issued in January, reflecting the IMF's continued concerns about high inflation, rising interest rates, increased financial stresses, and the impact of Russia's war against Ukraine.
The weaker forecast for 2023 is consistent with our view that the U.S. and other major economies are likely to slip into a moderate recession later this year.
Although the upcoming recession is now widely anticipated, it still presents the risk of a renewed pullback in stock values. We therefore remain cautious on equities and other risk assets for the time being.
China:  New data shows the country's total fixed railway investment in the first quarter of 2023 was up 6.6% from the same period one year earlier, hitting its highest level since 2013.  The big increase in railroad spending illustrates how Beijing has reverted to its traditional strategy of massive infrastructure investment to boost economic growth, even though the country is already struggling with excess industrial capacity and high debt.
In the short term, this type of stimulus spending will likely boost economic growth and stock values in China and those countries that export to it.
In the longer term, however, this uneconomic spending will exacerbate the Chinese economy's deep structural imbalances, making it harder to maintain growth and raising the risk of economic and social crises.
China-India:  Imagery analysis by London-based think tank Chatham House suggests China has been building new military intelligence facilities on Myanmar's Coco Islands, just 55 km north of India's military installations on its Andaman and Nicobar Islands in the Bay of Bengal (see map below).  The expanded facilities include a lengthened runway and hangars for aircraft, an upgraded radar installation, and docks for supplies.  Along with China's access to ports in Pakistan and Sri Lanka, the Coco Islands' facilities show that Beijing is gradually tightening its military and intelligence noose around India, which will likely continue to drive New Delhi toward a closer military, economic, and diplomatic relationship with the U.S.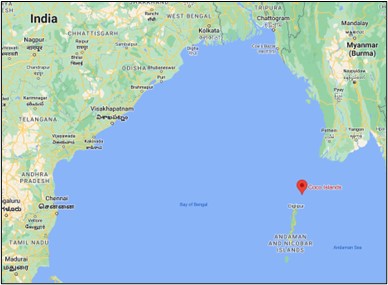 United States-South Korea:  More of the purported U.S. intelligence documents recently leaked on social media, which we described in our Comment on Monday, have been found to be fabricated, including much of the intelligence that had suggested U.S. spying on its key ally South Korea.  According to Seoul, the South Korean and U.S. defense ministers agreed in a phone call yesterday that much of the information had been fabricated, and that the two countries would continue to cooperate closely.  The report suggests the leak may not be as damaging as originally thought to the U.S. and its allies.
NATO-Germany:  A leaked memo from the Bundeswehr's inspector general indicates that Germany wouldn't be able to meet its pledge to provide a fully-equipped division to NATO in time of war by 2025.  According to the assessment, "the army will not be able to hold its own in high-intensity combat and will also only be able to fulfill its obligations to NATO to a limited extent."  The report also contended that continued underfunding and military support for Ukraine have already led to a "clearly noticeable reduction in the army's operational readiness."  The revelation could potentially put more pressure on Germany to boost its defense budget in the near term.
China-Russia-Iran-Ukraine:  Diplomatic sources say China and Russia are secretly negotiating with Iran to provide it with large amounts of ammonium perchlorate, the main ingredient in the solid propellants used to power missiles.  The amounts of the chemical under negotiation would reportedly be enough to build thousands of medium-range rockets, some of which could then be exported to Russia for its war against Ukraine.
United States-Russia:  Officials yesterday revealed that the U.S. Embassy in Moscow still has not received permission from the Russian government to visit Wall Street Journal reporter Evan Gershkovich, whom the Russians have detained on charges of spying.  The U.S. officials also said Russia has given no legitimate reason for the failure to grant permission.  The breach in diplomatic and consular standards will further poison the U.S. relationship with Russia and its ally, China.
U.S. Monetary Policy:  Yesterday, the new leader of the Chicago FRB, Austan Goolsbee, warned that monetary policymakers should be cautious about hiking interest rates further, now that banks have already started tightening lending standards and regulators had to take over two mid-sized lenders last month.  Even though Goolsbee voted for rate hikes at the two Fed policy meetings held since he took over at the Chicago FRB in January, his speech contained no endorsement of any further rate hikes.  His presentation confirms that interest rates probably can't be raised much more before generating pushback from the policymaking committee.
U.S. Environmental Regulation:  As we flagged in our Comment a few days ago, the Environmental Protection Agency proposed new rules today that would limit vehicle tailpipe emissions across each automaker's entire fleet between 2027 and 2032.  The rules aim to reduce overall emissions and force automakers to transition most of their production to electric vehicles.