Daily Comment (April 11, 2023)
by Patrick Fearon-Hernandez, CFA, and Thomas Wash
[Posted: 9:30 AM EDT] | PDF
Our Comment today opens with key news on the global technology sector, including data showing a steep downturn in personal computer shipments and increasing regulatory pressure on the evolving artificial intelligence industry.  We next review a wide range of other international and U.S. developments with the potential to affect the financial markets today, including signs that the new Bank of Japan leader will keep monetary policy unchanged for at least the near term.
Global Computer Industry:  Research firm International Data Corp. reported that global personal computer shipments in the first quarter were down 29% from the same period one year earlier.  In fact, shipments were even lower than in the first quarter of 2019, prior to the onset of the coronavirus pandemic, indicating the industry is now giving back much of the surge in activity it enjoyed in the midst of the pandemic.  With PC inventories expected to remain excessive until at least mid-2023, the data suggests much of the information technology sector could see soft business conditions and weak stock prices for some time yet.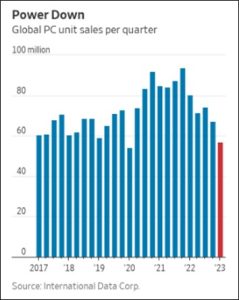 Global Artificial Intelligence Industry:  Yesterday, just hours after Alibaba (BABA, $101.54) became the third Chinese technology giant to launch a generative artificial intelligence chatbot, the Cyberspace Administration of China issued a draft of rules aimed at slowing the development of AI models and ensuring they work to support Communist Party priorities.  Meanwhile, separate reporting indicates that the Biden administration is exploring whether checks should be imposed on AI chatbots in the U.S., such as the popular ChatGPT, amid growing concerns that they could be used to discriminate or spread harmful information.
Under China's drafted rules, AI developers would have to register their models with the CAC, submit them for security reviews before releasing them to the public, ensure that they "embody core socialist values," verify users' identity, and make sure that users can be tracked.
In the U.S., the Commerce Department issued a formal public request today for comments on what it called accountability measures, including whether potentially risky new AI models should go through a certification process before they are released. The comments, which will be accepted over the next 60 days, will be used to help formulate advice to U.S. policymakers about how to approach AI.
Emerging Market Debt:  Advocacy group Debt Justice issued a report showing that for 91 of world's poorest countries, debt service paid to non-residents this year will account for 16% of government revenues.  That would be the highest foreign debt burden since 1998, illustrating the impact of rising global interest rates and the strong dollar.
The report suggests governments in poorer countries may increasingly struggle to fund public services ranging from defense and policing to infrastructure and anti-poverty programs. That could raise public frustrations and spark political instability in some countries.
In turn, the high debt burdens also raise the prospect for more financial crises in less developed countries, which could adversely affect their foreign bond holders and lenders.
Japan:  Yesterday, at the end of his first weekday as the Bank of Japan's new leader, Kazuo Ueda stated that he will maintain monetary easing and negative interest rates despite market expectations for an early policy change.  According to Ueda, returning Japanese price inflation to the BOJ's target of 2% is a job that will take many years, and he wants to finish it.  In response, the JPY dropped 1.1% yesterday to about 133.60 per dollar, while today Japanese stocks have jumped more than 1.0%.
China-Australia:  The Chinese government said it will review the up to 80% tariffs that it imposed on Australian barley in 2020 after Canberra called for an investigation into China's role in the coronavirus pandemic.  In return, the Australian government said it would suspend its complaint against the tariffs at the World Trade Organization.  The moves are part of a broader easing of tensions between the countries as China tries to set the stage for improved economic growth.
North Korea:  New reports say the government banned the use of foreign currency such as the Chinese yuan (CPY) and U.S. dollar this month and ordered its citizens to exchange their foreign money for the domestic won (KPW).  According to the reports, the government is confiscating any foreign currency that citizens attempt to hide from the authorities.
The program may indicate that North Korea is preparing to fully reopen foreign trade with China and wants to have sufficient foreign reserves to pay for any imports.
In turn, that may mean the North Korean economy is faltering so badly that the government has no choice but to reinvigorate trade with China again.
France-United States:  French President Macron has once again sparked concern about Western unity with statements about his cherished concept of European "strategic autonomy."  During his visit with Chinese President Xi last week, Macron said in an interview that Europe shouldn't just blindly follow U.S. policy on Taiwan or other important international conflicts so that it won't be caught up in "crises that are not ours."  His remarks have drawn condemnation from a range of political leaders not only in the U.S., but also in Europe.
Without a doubt, Macron's statements were music to Xi's ears, given the Chinese leader's desire to drive a political wedge between the U.S. and Europe. Because of China's rapidly growing military power, enormous economy, and increasing diplomatic influence, the ongoing effort to thwart China's geopolitical aggressiveness will require the U.S., Europe, and other key Western allies to maintain unity.  Macron's call for Europe to be more independent is a threat to that.
Nevertheless, Macron's vision remains aspirational, just as de Gaulle's vision of French power and glory was in the decades after World War II. The French soul laudably embraces its history— from its Napoleonic victories and its Empire to the contributions it has made to world culture in terms of political principles, diplomacy, law, philosophy, science, architecture, design, visual and performing arts, fashion, style, cuisine, and the simple art of living.  But France in particular and even Europe in general are far from having the military, economic, or diplomatic power needed to act as an independent and secure superpower.  In time of crisis, French and European vulnerabilities become clear, and the imperative of their alliance with the U.S. becomes obvious.  As such, Macron's statements do raise tensions and weaken the Western alliance, but they are unlikely to be fatal to it.
United States-Philippines:  Today, the U.S. and the Philippines have launched their largest joint military exercises in 31 years.  The drill will include a total of 17,500 soldiers, sailors, and airmen and will even include a small contingent of troops from Australia.  The U.S. and Philippine foreign and defense ministers are also due to hold their first so-called "2+2 meeting" in seven years today in Washington.  Today's activities come a week after the Philippines formally identified four of its military bases which it will permit the U.S. to use under the countries' security agreements.  These activities illustrate the renewed military cooperation between the two countries as the Philippines becomes more concerned about China's geopolitical aggression.
U.S. Military Recruiting:  New analysis by The Military Times indicates the recent big shortfalls in troop recruiting may be tied to a new medical records system adopted by the Pentagon in 2022.  Since the new system does a better job of vacuuming up an applicant's entire medical history from multiple digital sources, military recruiters interviewed for the article said the new system has ended an applicant's ability to gloss over or knowingly ignore minor medical issues, such as past use of ADHD meds or inhalers, before signing up.
Some politicians and political pundits have blamed the recruiting shortfall on "woke" diversity training or out-of-shape kids. Pentagon officials have pinned the blame largely on today's roaring civilian jobs market and bad perceptions of service fueled by negative headlines.  The recruiters blamed the new medical records system above all else.
If the new medical system is indeed the key problem, it suggests the Pentagon could tweak the system to flag fewer problems or adopt a more flexible approach that allows more young people to enlist.
U.S. Monetary Policy:  New York FRB President Williams yesterday downplayed signs in the financial markets that investors are expecting the monetary policymakers to begin cutting interest rates later this year, despite Fed projections that they will hold rates steady once they have gotten the benchmark fed funds rate slightly above 5.0%.  According to Williams, investors may have a more pessimistic view of economic growth going into the second half of the year, or investors may not understand how hard it will be to get inflation back down to the Fed's 2% target.  In any case, his statements are consistent with our view that interest rates will rise at least a bit more and then may stay elevated for longer than investors currently think.
U.S. Weather Conditions:  New data shows that drought has now taken hold in about two-thirds of Florida, up from about one-fifth of the state a year ago.  The drought is creating challenging economic conditions for ranchers and farmers and creating a higher risk of widespread wildfires.