Daily Comment (April 1, 2022)
by Patrick Fearon-Hernandez, CFA, and Thomas Wash
[Posted: 9:30 AM EDT] | PDF
Good morning!  We begin today's report with a brief update on the Russian invasion. Next, we discuss U.S. economic and policy news, with an emphasis on yesterday's yield curve inversion.  We follow with our international news roundup and COVID-19 coverage.
Ukraine and Russia are scheduled to resume peace talks on Friday. There is growing optimism that the sides are getting closer to reaching a ceasefire agreement. Ukraine has stated that it is willing to accept Russia's demands to remain a neutral state, meaning it will not join a military alliance with either Russia or the U.S. As we have mentioned in the past, we are not optimistic that a ceasefire agreement will completely end the conflict. While talks have improved, the conflict between the sides continues.   Ukraine President Volodymyr Zelensky has accused Russian troops of deliberately targeting agriculture, while the Kremlin claimed two Ukrainian helicopters attacked an oil depot in a Russian city. However, there have been signs of de-escalation. Russian troops have left Chernobyl and a northern suburb of Kyiv.
Other Ukraine related news:
U.S. Economic and policy news
The yield for the 2- year Treasury rose above the 10-year note for the first time since 2019. This phenomenon, also known as a yield curve inversion, is considered a warning sign that the economy may be heading into a recession within the next two years. In our view, the most recent inversion reflects growing concerns that the impact of the fallout of the Russia-Ukraine war and hawkish Fed policy will hurt economic growth. Although we are not currently forecasting a recession this year, we suspect that the fiscal drag due to lack of stimulus will lead to slower growth. The chart below shows the latest forecast from the Atlanta Fed for Q1 GDP. The latest reading estimates the economy grew at an annualized rate of 1.3% in the first quarter of the year.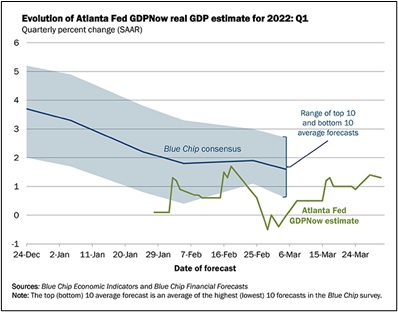 International news
COVID-19: The number of reported cases is 487,775,962, with 6,142,161 fatalities.  In the U.S., there are 80,103,665 confirmed cases with 980,624 deaths.  For illustration purposes, the FT has created an interactive chart that allows one to compare cases across nations using similar scaling metrics.  The CDC reports that 702,957,265 doses of the vaccine have been distributed, with 560,823,729 doses injected.  The number receiving at least one dose is 255,534,750, while the number of second doses is 217,639,435, and the number of the third dose, granting the highest level of immunity, is 97,674,972. The FT has a page on global vaccine distribution.