Business Cycle Report (January 30, 2020)
by Thomas Wash
The business cycle has a major impact on financial markets; recessions usually accompany bear markets in equities.  We have created this report to keep our readers apprised of the potential for recession, which we plan to update on a monthly basis.  Although it isn't the final word on our views about recession, it is part of our process in signaling the potential for a downturn.
December brought a wave of positive news about the economy. U.S. large and mid-cap equities ended the year at record highs largely due to strong performance in the Technology sector.[1] Moreover, the U.S. and China announced an agreement for the "Phase One" trade deal. Additionally, strong retail sales around the holiday break offered reassurance that U.S. consumption, which is the largest contributor to GDP, remains strong. However, not all was positive. The manufacturing sector continued to show signs of weakness that will likely persist into 2020. Last month, Boeing (BA, 323.89), arguably the largest U.S. manufacturing exporter, announced that it will suspend production of its Boeing 737 Max starting in January. It is estimated that the production cut will reduce annualized GDP by 30 to 50 bps. That being said, our diffusion index has remained unchanged from the previous month with nine out of 11 indicators in expansion territory. The reading for this month came in at +0.575.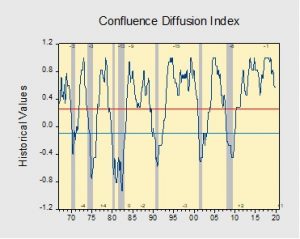 The chart above shows the Confluence Diffusion Index. It uses a three-month moving average of 11 leading indicators to track the state of the business cycle. The red line signals when the business cycle is headed toward a contraction, while the blue line signals when the business cycle is headed toward a recovery. On average, the diffusion index is currently providing about six months of lead time for a contraction and five months of lead time for a recovery. Continue reading for a more in-depth understanding of how the indicators are performing and refer to our Glossary of Charts at the back of this report for a description of each chart and what it measures. A chart title listed in red indicates that indicator is signaling recession.
---
[1] The basis used is the S&P 500 and S&P 400.