Asset Allocation Weekly (May 6, 2016)
by Asset Allocation Committee
In our latest adjustment to the asset allocation portfolios, we added to the REIT positions in three of the four models.  One of the reasons we remain friendly to this asset class has been the steady increase in rental income.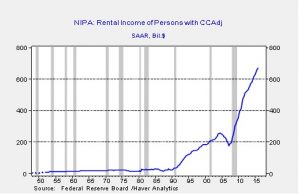 This chart shows rental income from the National Income and Product Accounts (NIPA).  Note that rental income has been rising at a very fast pace since the housing crisis.  In fact, as a percentage of national income, rents are at a postwar high, exceeding 4.25%.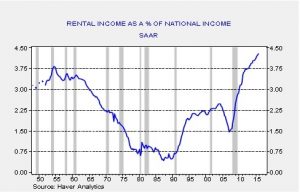 In general, history shows that rising rental income tends to support rising REIT values.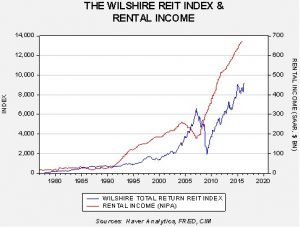 A major reason rental income is rising is due to falling homeownership rates.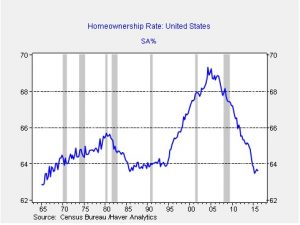 The rate of homeownership peaked at 69.3% in Q2 2004 and, in the wake of the housing crisis, suffered a precipitous decline.  Although we have reached a level where we believe stabilization is likely, we doubt this level will rise anytime soon.  And so, rental income should remain elevated until enough new apartments are constructed to depress rents.  So far, that hasn't happened, although there has been an increase in multi-family construction.  We will continue to closely monitor rental income as a key input into our REIT allocations.