Weekly Geopolitical Report – The Turkish Coup, Part III (August 8, 2016)
by Bill O'Grady
Last week, we recounted the events of Turkey's recent coup and some of our thoughts about why the coup failed and who was behind it.  This week we will discuss the unfolding purge, including the role of Fethullah Gulen, and discuss the impact on regional geopolitics.  In this week's report, we will examine the market effects of the coup and its aftermath.
The Purge
At first blush, this coup seemed to be the work of Kemalists in the military.  For example, the coup plotters forced a Turkish state media broadcaster to read a prepared statement which accused the government of "eroding democratic and secular rule of law," as they declared martial law.  This is fairly standard coup behavior.  However, nearly from the start, President Erdogan accused Gulen of fomenting the coup.  We will examine this issue below.
The scope of those affected by the purge is rather large.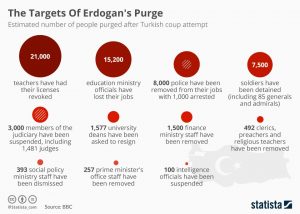 Although a bit more than 15k of military and police have been removed from their posts (and in many cases, under arrest), the education sector has been hit hard, with nearly 28k being removed from their jobs, including 21k teachers who have had their licenses revoked and nearly 1,600 university deans who have been forced to resign.  The purge continues to widen and it appears that the Gulenists are the primary target.  For example, Gulenists are deeply imbedded in education which explains why Erdogan has targeted academia.
In addition to the purge, Erdogan has implemented a state of emergency that will allow him to rule by decree.  We would not be surprised to see this decree extended.  Erdogan is not going to let this crisis pass without extracting the most value he can for it.  We suspect Erdogan intends to reshape Turkey's government to resolve which Islamic group is going to dominate the country's future.