Weekly Energy Update (November 18, 2021)
by Bill O'Grady, Thomas Wash, and Patrick Fearon-Hernandez, CFA | PDF
(N.B. Due to the Thanksgiving Day holiday, the next report will be published on December 2.)
Oil prices have been struggling this week, testing support $79.50.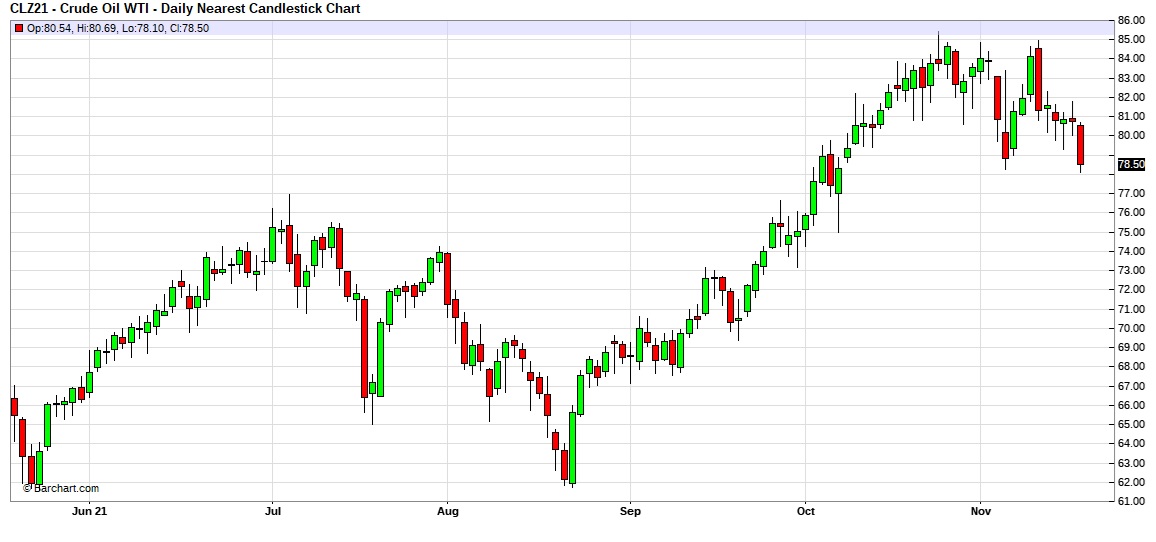 (Source: Barchart.com)
Crude oil inventories unexpectedly fell 2.1 mb compared to a 1.2 mb build forecast.  The SPR declined 3.2 mb, meaning the net draw was 5.3 mb.

In the details, U.S. crude oil production was unchanged at 11.5 mbpd.  Exports rose 0.1 mbpd, while imports fell 0.1 mbpd.  Refining activity rose 0.4%.  This build season usually ends in mid-November.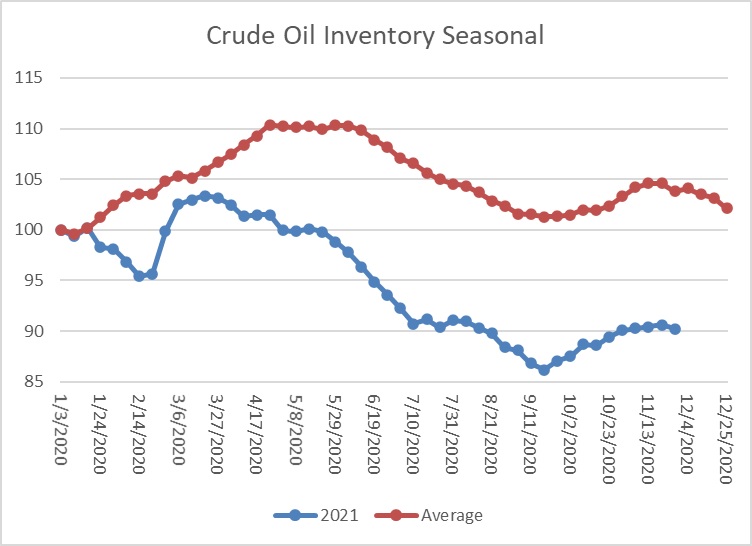 (Sources: DOE, CIM)
This chart shows the seasonal pattern for crude oil inventories.  We are nearing the end of the autumn build season.  Note that stocks are significantly below the usual seasonal trough.  Our seasonal deficit is 70.0 mb.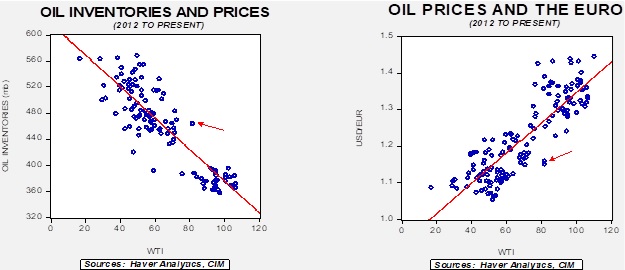 Based on our oil inventory/price model, fair value is $63.80; using the euro/price model, fair value is $56.63.  The combined model, a broader analysis of the oil price, generates a fair value of $59.77.  Across all models, the current price of oil is overvalued.  The biggest concern has been dollar weakness, which is creating a serious divergence in the model.  Although we have been bearish about the dollar because of purchasing power parity factors, we suspect foreign governments prefer dollar strength and are taking advantage of the benign neglect of U.S. dollar policy.
One factor we are watching is that the trend in unaccounted for crude oil is elevated.  The most likely reason is that production levels are being underestimated, and, if so, the 12-week average would suggest that production is +0.5 mbpd higher than being reported.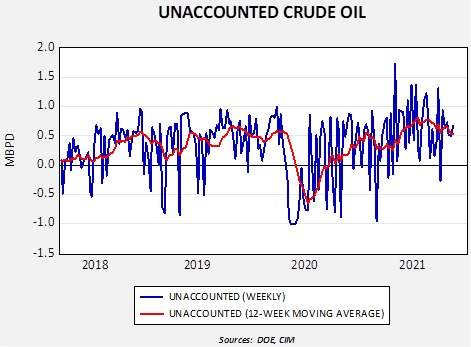 Market news:
The Biden administration faces political pressure from high oil prices and is trying to craft a response.  There has been talk of a larger SPR release, curtailing oil exports, and easing ethanol blending requirements.  All these proposals carry risks.  A larger SPR release could leave the nation vulnerable to a crisis in the Middle East.  Although the U.S. has an ample reserve, the goal of SPRs is to reduce hoarding, so it has to be large enough to overcome that psychological hurdle.  Curtailing exports to a world in shortage isn't how a superpower behaves and would undermine the "America is back" policy of this administration. Reducing biofuel blending would anger the farm sector.  So far, the administration is using the "round up the usual suspects" approach by claiming market manipulation.  We have covered energy markets since 1989, and, to our knowledge, there has never been a demonstrated case of market manipulation.  At the same time, numerous presidents have pressed the FTC to conduct investigations.

It should be noted that the administration wants a methane tax designed to punish drillers, pipelines, and processors over natural gas leaks.  Unfortunately, the tax will likely lift natural gas prices at a time when supply concerns have boosted price levels.

The IEA is upbeat about higher supplies in the coming months.  The U.S. is holding a large offshore permit sale soon.  It will be interesting to see the level of interest in projects that may not provide new supplies until early 2030.  Meanwhile, Permian Basin production is set to rise next month to a new record.
Geopolitical news:
Alternative energy/policy news: