Weekly Energy Update (March 31, 2022)
by Bill O'Grady, Thomas Wash, and Patrick Fearon-Hernandez, CFA | PDF
Oil prices remain volatile, moving on news regarding the Russia-Ukraine war.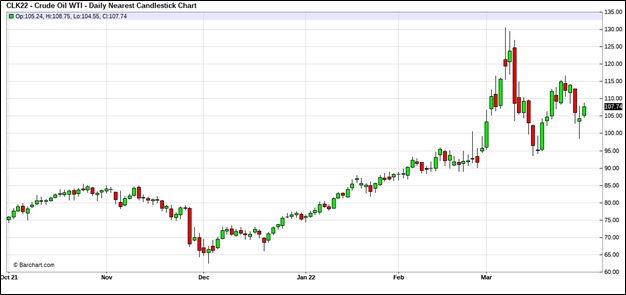 (Source: Barchart.com)
Crude oil inventories fell 3.4 mb compared to a 2.2 mb draw forecast.  The SPR declined 3.0 mb, meaning the net draw was 6.5 mb.

In the details, U.S. crude oil production rose 0.1 mbpd to 11.7 mbpd.  Exports fell 0.9 mbpd, while imports declined 0.2 mb.  Refining activity rose 1.0% and is now 92.1% of capacity.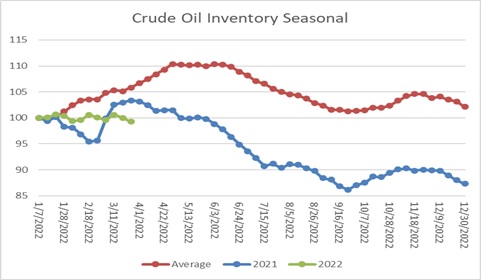 (Sources: DOE, CIM)
This chart shows the seasonal pattern for crude oil inventories.  Last year, oil stocks peaked in early April and fell steadily into September.  This year's pattern hints that we may have already peaked stockpiles, meaning commercial inventories may decline for the next several months. Even though the current oil price far exceeds the level that the inventory model below would indicate, the divergence may narrow in the coming weeks if we see continued seasonal declines in oil stocks.

Clearly the relationship between the EUR and oil prices has fallen apart.  Just using the oil inventory model, the current fair value is $71.80.  To justify the current monthly average of around $180 per barrel, commercial inventories would need to decline to 387 mb.  Is that conceivable?  Yes.  If we see stockpiles decline in a similar fashion to last year, by mid-September, commercial inventories will be around 375 mb.  So, at present, the current price has discounted further tightening in supply, but based on last year's inventory behavior, the current price isn't unreasonable.
 Market news:
When studying history, there is a constant tension between simplifying and detailing. In other words, it is rare that a historical event has a single cause, but identifying a large number of causal factors makes it difficult to determine what analysts should focus on when creating a historical analog.  Learning the lessons from history is difficult if common factors can't be isolated.  This issue even applies to recent history.  On the question of "why aren't U.S. oil companies pumping more oil," there are several identifiable reasons.  Fortunately, the Dallas FRB has conducted a survey of oil producers in its district, and the clear answer is that the financial industry is pressuring oil firms to maintain capital discipline.  Simply put, the hurdle for new production is higher because it makes it difficult to source financing.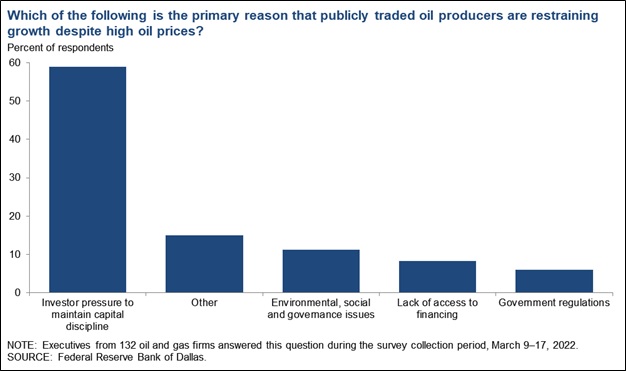 Although government regulation does play a role, as does ESG, their investors' demand for returns is restraining growth.  The oil and gas industry has traditionally experienced booms and busts; it appears financial firms are trying to contain that cycle.  The shift to encourage expanded oil and gas production is boosting the shares of energy companies.  It should also be noted that the survey suggests oil and gas executives do not see a promising future, which is also likely curtailing investment.
Geopolitical news:
Alternative energy/policy news: