Weekly Energy Update (July 22, 2021)
by Bill O'Grady, Thomas Wash, and Patrick Fearon-Hernandez, CFA | PDF
The OPEC+ agreement led to a deep selloff in oil prices, but the decline has attracted new buyers.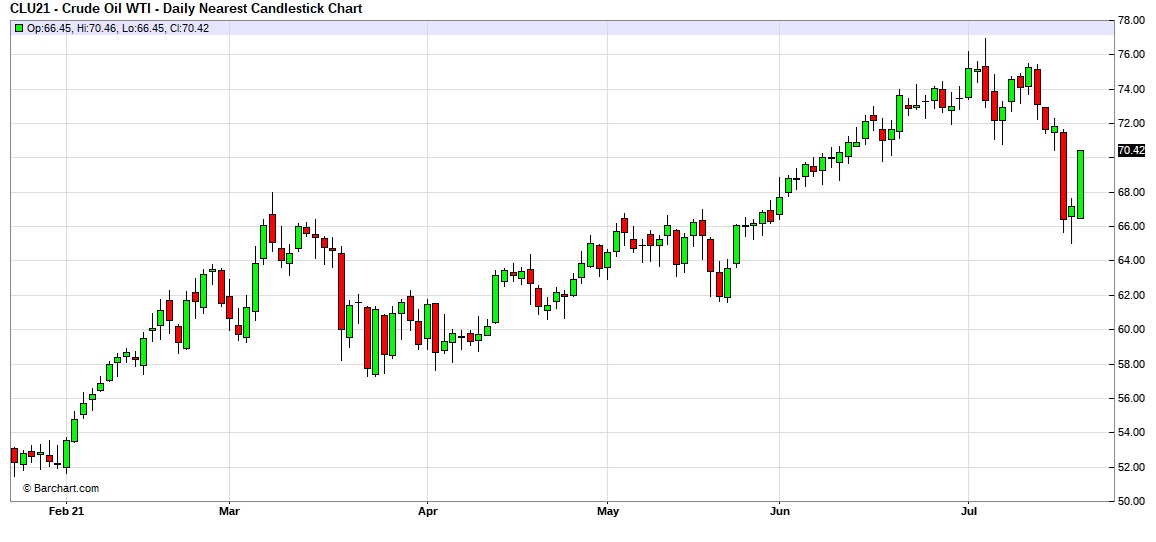 (Source: Barchart.com)
Crude oil inventories unexpectedly rose 2.1 mb compared to the 4.5 mb draw forecast.  The SPR was unchanged this week.

In the details, U.S. crude oil production was unchanged at 11.4 mbpd.  Exports declined 1.6 mbpd, while imports rose 0.9 mb.  Refining activity fell 0.4%.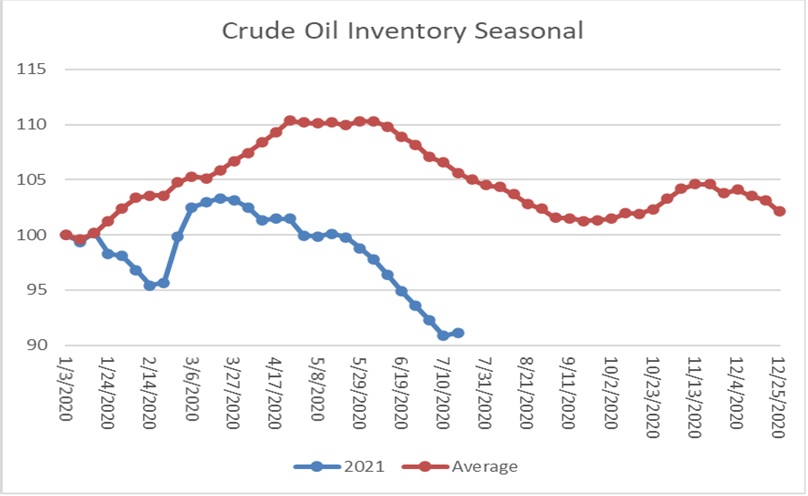 (Sources: DOE, CIM)
This chart shows the seasonal pattern for crude oil inventories.  We are well into the summer withdrawal season.  Note that stocks are well below the usual seasonal trough seen in early September.  A normal seasonal decline would result in inventories around 550 mb.  Our seasonal deficit is 79.6 mb.  At present, inventories are falling faster than normal.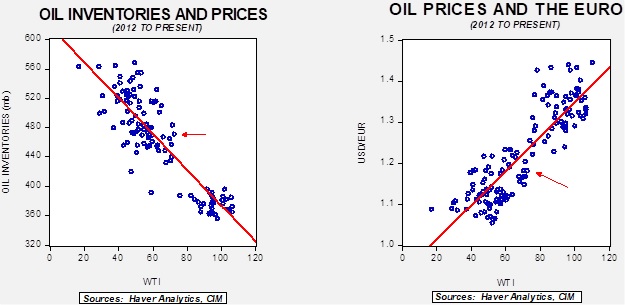 Based on our oil inventory/price model, fair value is $61.31; using the euro/price model, fair value is $63.07.  The combined model, a broader analysis of the oil price, generates a fair value of $61.89.  Even with this week's pullback, oil prices are well above fair value for all the models.  The ability for oil to maintain current levels is dependent on sentiment towards OPEC and issues surrounding the pandemic.
Market news:
OPEC+ made it official this week; starting next month, it will increase production quotas by 0.4 mbpd each month into next year. Although this news already was signaled, as we note in the opening chart, oil prices slumped on the news.  The fear is that the cartel is adding supplies to the market while it is being adversely affected by the Delta variant of COVID-19.  Based on our modeling work, the market has been overvalued, so a pullback isn't a complete surprise, and using the production news created a narrative for longs to take profits.  Supplies will remain relatively tight, and we don't expect prices to fall too much from here.
Financial firms are increasing the financing for the oil and gas industry, but the firms are not using the loans for drilling. They are focusing on balance sheet repair.  This behavior isn't surprising given the likely path of future demand.
Geopolitical news:
Alternative energy/policy news: