Weekly Energy Update (August 19, 2021)
by Bill O'Grady, Thomas Wash, and Patrick Fearon-Hernandez, CFA | PDF
Oil prices remain under pressure as concerns over the Delta virus and seasonal factors press prices lower.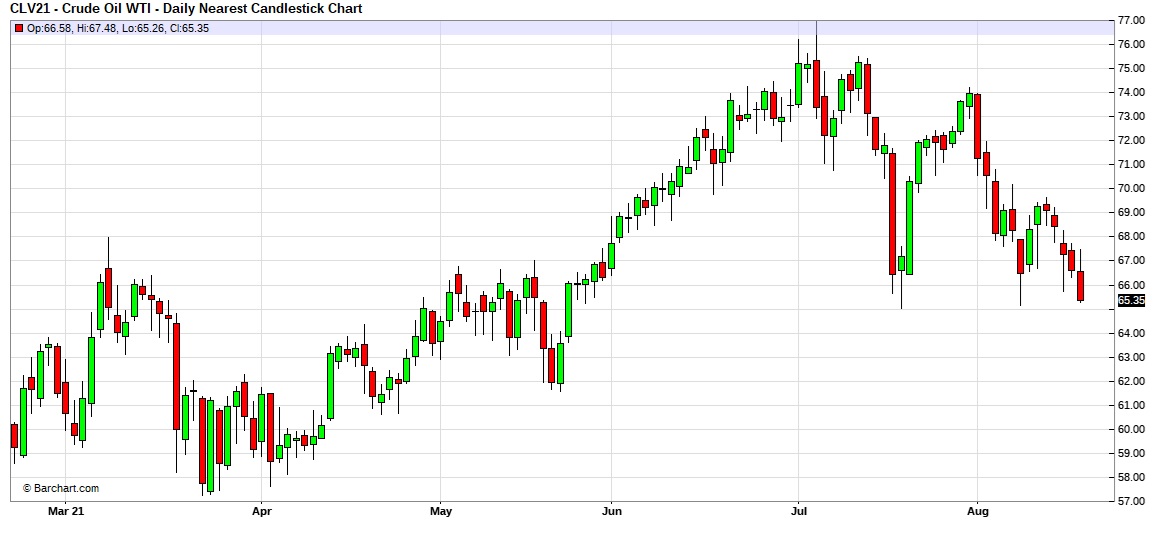 (Source: Barchart.com)
Crude oil inventories fell 3.2 mb compared to the 1.5 mb draw forecast.  The SPR was unchanged this week.

In the details, U.S. crude oil production rose 0.1 mbpd to 11.4 mbpd.  Exports rose 0.8 mbpd, while imports were unchanged.  Refining activity rose 0.4%.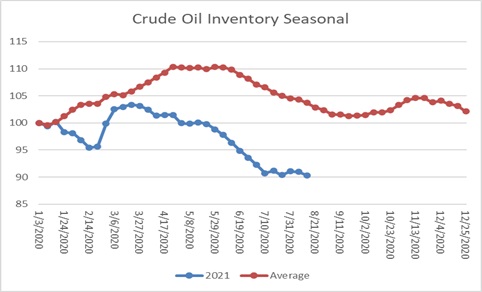 (Sources: DOE, CIM)
This chart shows the seasonal pattern for crude oil inventories.  We are well into the summer withdrawal season.  Note that stocks are well below the usual seasonal trough seen in early September.  A normal seasonal decline would result in inventories around 550 mb.  Our seasonal deficit is 69.0 mb.  Since early July, inventory levels have stabilized.  As the chart indicates, seasonal inventory stabilization usually occurs in September, so if this pattern continues, the seasonal deficit should narrow.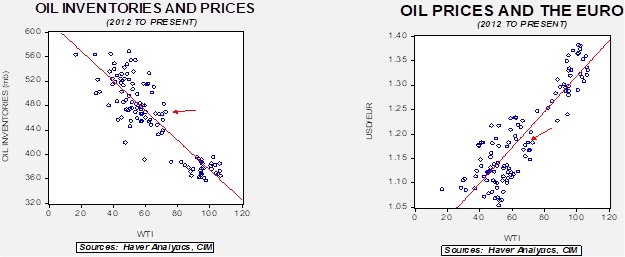 Based on our oil inventory/price model, fair value is $62.67; using the euro/price model, fair value is $62.09.  The combined model, a broader analysis of the oil price, generates a fair value of $62.09.  Continued dollar strength is weighing on oil prices.
Market news:
Oil prices have come under pressure due to the impact of the Delta variant.  This variant is leading to limited lockdowns in parts of the world and raising fears of weakening oil demand.  Complicating matters are calls from the administration for OPEC+ to raise output.  The fear of weakening demand coupled with higher potential supply is bearish for crude oil.
Although environmentalists would like to reduce coal usage, strong natural gas prices are fostering more coal-burning for electricity production.
Although Alberta's oil production hit a record, the future of tar sands looks bleak.
Geopolitical news:
 Alternative energy/policy news: