Daily Comment (September 25, 2020)
by Bill O'Grady, Thomas Wash, and Patrick Fearon-Hernandez, CFA
[Posted: 9:30 AM EDT] | PDF
It's Friday and we are closing another week.  Equity markets continue to struggle.  We lead off with policy news from around the world (including the U.S.).  China news is next.  We update the pandemic news followed by international news.  As promised, a bonus chart is presented.  And, being Friday, a new Asset Allocation Weekly report, podcast, and chart book are available.  Here are the details:
Policy news:  There are a number of developments worldwide as the Northern Hemisphere prepares for winter under pandemic conditions.
China news:
COVID-19:  The number of reported cases is 32,273,914 with 983,720 deaths and 22,261,136 recoveries.  In the U.S., there are 6,979,973 confirmed cases with 202,827 deaths and 2,710,183 recoveries.  For illustration purposes, the FT has created an interactive chart that allows one to compare cases across nations using similar scaling metrics.  The FT has also issued an economic tracker that looks across countries with high frequency data on various factors.  The R0 data show 19 states with falling cases, and 31 with a rising trend.  Ohio has the lowest infection rate, while Washington has the highest.
Virology: 
International news: 
Bonus Chart: In macroeconomic accounting, all saving has to net to zero.  That's because the process is a sort of balance sheet.  The reason we look at net saving is to determine where the flows are moving.  We have just received the data for Q2, and they are remarkable.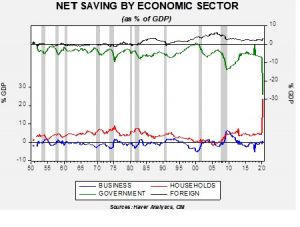 Due to the CARES Act, we saw massive dissaving from the government sector; another way of saying this is the deficit widened.  Note that the bulk of the saving is being held by households, although the rise in the current account, which includes foreign saving, also rose.  This data indicates that households are holding large saving balances that will eventually flow back into the economy as spending.