Daily Comment (September 1, 2017)
by Bill O'Grady and Thomas Wash
[Posted: 9:30 AM EDT] Happy Employment Day!  We recap the numbers below.  Here is what we are watching today:
Q3 GDP looking strong: Q2 GDP was revised to 3.0%, and the Atlanta FRB is projecting a 3.3% growth rate for Q3.  We present the relevant charts below.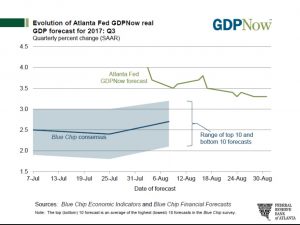 The estimated growth rate is coming down but is still stronger than the consensus estimate.  Below is the breakdown by contribution.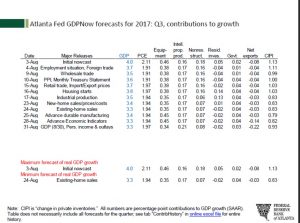 Consumption remains strong and inventories are expected to add a point to growth; in fact, inventories and PCE contribute most of the growth in the forecast, representing all but 40 bps of the expected increase.  The data suggests a steadily improving economy.  We will be watching to see the impact of Harvey in the coming weeks.
CPC meetings in October: The Communist Party of China (CPC) announced that its 19th Party Congress meetings will begin October 18.  This is the meeting where Xi Jinping will announce his new Standing Committee, the body that is effectively his cabinet.  In a Chinese leader's second term, he gets to select his own Standing Committee, whereas the Standing Committee is usually filled with allies of the previous leader in the initial election.  So, unlike the U.S. system, the Chinese leader has more power in his second term.  We will be watching closely for an "heir apparent"; if Xi fails to pick a Standing Committee member that looks like the next president, it is possible that Xi might try for a third term.
Kenya elections: Last night, Kenya's Supreme Court ruled that the results from last month's presidential election were invalid; as a result, new elections will take place within 60 days.  The unprecedented ruling was a stunning blow to the incumbent, President Uhuru Kenyatta.  The previous election's results showed that he had defeated his opponent, Raila Odinga, with 54% of the vote.  Although it is likely that there were some forms of voter intimidation and voter fraud on both sides, which are fairly common in developing countries, we believe these irregularities are unlikely to explain the margin of victory.  The decision is the first time in Kenya's history, as well as Africa, in which an election was overturned by the Supreme Court and is likely to raise tensions as the new election draws near.  Trading on the Nairobi stock exchange was halted temporarily due to fears that political uncertainty could harm the economy.