Daily Comment (July 23, 2018)
by Bill O'Grady and Thomas Wash
[Posted: 9:30 AM EDT] Although it was a quiet weekend, we have had a busy morning.  Here is what we are watching:
Iran: There was media sniping this morning, which appears to have started in Iran.  First, President Rouhani of Iran warned the U.S. not to escalate tensions with his country, suggesting that a confrontation would lead to the "mother of all wars."  He also indicated that the U.S. could not stop Iran from exporting its oil.[1]  This statement is, obviously, incorrect.  Although Iran has often threatened to shut down the Strait of Hormuz, which is perhaps the most important oil shipping chokepoint in the world, the U.S. could actually close off Iranian shipping and exports through financial sanctions and the U.S. Navy's ability to implement a blockade.  President Trump reacted through social media, sending out an all-caps response late last night.
To Iranian President Rouhani: NEVER, EVER THREATEN THE UNITED STATES AGAIN OR YOU WILL SUFFER CONSEQUENCES THE LIKES OF WHICH FEW THROUGHOUT HISTORY HAVE EVER SUFFERED BEFORE. WE ARE NO LONGER A COUNTRY THAT WILL STAND FOR YOUR DEMENTED WORDS OF VIOLENCE & DEATH. BE CAUTIOUS![2]
This escalation appears to have been prompted by comments from SoS Pompeo, who described Iran's leaders as the "mafia" and promised to back Iranians unhappy with their government.[3]  Pompeo reiterated the U.S. goal of lowering Iran's exports to "as close to zero as possible" by November 4.  While it is obvious this administration is taking a hostile line toward Iran, Pompeo's comments about supporting anti-government elements in Iran are probably a mistake.   There has been rising unrest in Iran due to the deteriorating economy.  But, the elements opposing the mullahs in Iran may not necessarily be pro-U.S.  By indicating the U.S. would aid such groups, they are immediately tainted as not being loyal to Iran.  This is a mistake that is common for Western governments; regime change may not necessarily make conditions better or empower a new, Western-friendly government.
The comments appear to have lifted oil prices.  However, prices are also higher on reports that some North Sea oil platforms have been hit with a 24-hour strike.[4]
Change at the BOJ?  We did see a jump in Japan's 10-year government yields overnight on fears of tightening monetary policy.  The Bank of Japan continues to struggle with policy.  The central bank continues to see inflation below its 2% target with little evidence it's rising.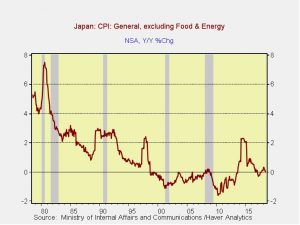 This chart shows Japan's core CPI (y/y% change).  Although we did see a jump in 2014, that was due to a hike in consumption taxes.  Currently, the inflation rate is zero.   At the same time, zero interest rates are distorting the economy and undermining how the financial system functions.  What does the BOJ need to do?  The best outcome it could achieve would be to steepen the yield curve, which would help the financial system.  Currently, the BOJ pegs the 10-year rate at zero.  There is talk that it may allow the 10-year rate to become more volatile, but the risk to this policy is that it further confirms the low inflation policy and lifts the JPY.  The central bank meets next week; we suspect these "leaks" are really trial balloons, and the market's reaction thus far (rising 10-year yields and a stronger JPY) will support the doves on the board to leave policy unchanged.
Trade: Trade issues continue unabated.  SoT Mnuchin was at the G-20 over the weekend in Argentina.  By all accounts, not much changed.  The Trump administration continues to press for bilateral trade agreements and the rest of the world doesn't want anything to change.[5]  Mnuchin added to the president's recent currency comments about foreign nations depreciating their currencies for trade advantage.[6]  It should be remembered that Mnuchin made weak dollar comments at Davos earlier this year.  On Wednesday, the president of the EU Commission, Jean-Claude Juncker, will meet with President Trump in a bid to forestall auto tariffs.[7]  We would not be surprised to see some sort of deal on autos; it appears President Trump is rather isolated even within his own administration on this issue.[8]  However, we do offer one note of warning: U.S. light trucks enjoy 25% tariffs which date back to the Johnson administration (the "chicken tax"[9]).  If that gets negotiated away, it would likely be a major negative factor for U.S. automakers.
Q2 GDP: The latest reading from the Atlanta FRB's continuous forecast for GDP is suggesting a robust quarter.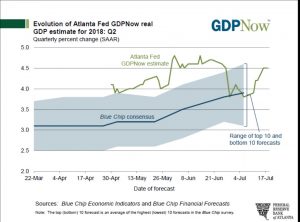 The current estimate is for a 4.5% quarter.  In looking at the contributions to growth, consumption, net exports and inventories account for about 3.3% of that growth.  Government spending is adding 57 bps.  New investment is the remainder.  Such growth bolsters the Fed's case for higher interest rates.
AMLO—let's make a deal!  The president-elect of Mexico penned a letter[10] to President Trump indicating he is ready to "start a new stage of U.S.-Mexico relations" and wants to conclude the renegotiation of NAFTA.  Although there have been worries about deteriorating relations due to AMLO's nationalist stance, it does appear he is trying to work with the U.S.  If the Trump administration responds positively, it could be supportive for Mexican financial markets.
Meat Mountain:[11]Although macroeconomic theory highlights the inflationary impact of trade impediments, the reality is somewhat more complicated.  Yes, the combination of higher import prices and the loss of efficiencies that come from trade is inflationary.  However, there is the short-run effect that exporters, whose markets become closed in retaliation, find themselves sitting on rising inventories.  Eventually, these inventories are worked off and production is cut to adapt to lower demand.  However, this can lead to "fire sale" prices during the adjustment process.  It appears U.S. exports of meats are facing trade impediments and inventories are rising.  This will eventually lead to lower meat prices in the U.S. (although this is dependent upon the competitive structure of the grocery and restaurant markets; some of this price decline could show up as better margins in those industries).  Declining meat prices, while not as important to consumer confidence as energy, could be a popular event as we head into the mid-term elections.
---
[1] https://www.aljazeera.com/news/2018/07/play-lion-tail-rouhani-warns-trump-180722162909627.html
[2] https://www.ft.com/content/14e607ac-8e29-11e8-b639-7680cedcc421?segmentId=a7371401-027d-d8bf-8a7f-2a746e767d56
[3] https://uk.reuters.com/article/uk-usa-iran-pompeo/pompeo-assails-irans-leaders-compares-them-to-mafia-idUKKBN1KD04E?il=0&utm_source=POLITICO.EU&utm_campaign=5a3b984308-EMAIL_CAMPAIGN_2018_07_23_04_38&utm_medium=email&utm_term=0_10959edeb5-5a3b984308-190334489
[4] https://www.reuters.com/article/us-total-strike-north-sea/totals-north-sea-oil-platforms-hit-by-24-hour-strike-idUSKBN1KD144
[5] https://www.ft.com/content/cbe1f2e2-8dc3-11e8-bb8f-a6a2f7bca546?segmentId=a7371401-027d-d8bf-8a7f-2a746e767d56
[6] https://www.ft.com/content/97105928-8db4-11e8-b639-7680cedcc421?segmentId=a7371401-027d-d8bf-8a7f-2a746e767d56
[7] https://www.ft.com/content/7fe120f0-8d8e-11e8-b639-7680cedcc421?segmentId=a7371401-027d-d8bf-8a7f-2a746e767d56
[8] https://www.politico.com/story/2018/07/22/trump-foreign-car-tariffs-juncker-735555
[9] https://en.wikipedia.org/wiki/Chicken_tax
[10] https://www.wsj.com/articles/in-letter-to-trump-mexicos-president-elect-seeks-common-path-1532285296
[11] https://www.wsj.com/articles/meat-piles-up-as-production-grows-and-exports-slow-1532268000