Daily Comment (December 16, 2019)
by Bill O'Grady, Thomas Wash, and Patrick Fearon-Hernandez, CFA
[Posted: 9:30 AM EST]
Happy Monday!  Equities are lifting this morning on continued trade optimism, despite some creeping concerns.  Economic data around the world was mixed; solid for China, weak for the Eurozone.  More debt worries for China. Here are the details:
Trade:  First, the Phase One deal with China.  There is a lot of clutter to work through, but our bottom line is this—if China holds up its end of the bargain, Washington got the better of Beijing.  Here's why:
China has agreed to buy a lot more of U.S. goods. Although there are reports of certain levels of agricultural purchases, the key phase is that China will "import various U.S. goods and services over the next two years in a total amount that exceeds China's annual level of imports for those goods and services in 2017 by no less than $200 billion."  Over the past two years, U.S. exports to China have run between $180 bn to $190 bn.  Essentially, China has agreed to boost imports by $100 bn per year over those elevated levels.  So, that would put exports around $280 bn.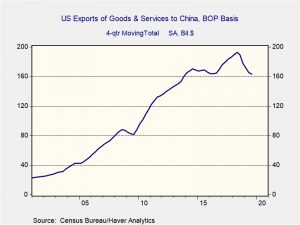 Needless to say, that's a lot.  To hit that number, China should buy lots of U.S. grain and meat products.  Energy too.  For now, China has a clear incentive to buy our commodity products because its food inflation is really high.  Additionally, because China has a two year window, it could be light next year with the promise of lifting purchases in 2021.  So, retaliation on this issue probably isn't immediate.
China agrees to not manipulate its currency. That isn't a huge "give up" because a weaker CNY creates problems for China.  Currency weakness increases capital flight and raises debt service costs for dollar-denominated debt.  So, Beijing is probably more comfortable with a stable CNY.
There is vague language about intellectual property and technology transfer. The language in the agreement, on its face, is a huge win for the U.S. as China supposedly agrees to give up its practice of forcing foreign firms to transfer technology.  However, the lack of details suggests this goal is aspirational and we would be shocked to see China meet U.S. demands on this issue.  If Phase One is going to fail, this is an area of risk.
There is also vague language about dispute resolution. There were no details.
For all this, the U.S. did not implement tariffs on Dec. 15 and reduced tariffs on $150 bn of Chinese imports from 15% to 7.5%. To put a fine point on it, the U.S. tariff reduction will increase Chinese imports by $10 to $15 bn and in return, the U.S. will increase exports to China by $120 bn.  If China abides by this deal, it is a huge win.  Which means, of course, that the likelihood of compliance is low.  The issue now becomes when does the Trump administration have enough evidence to say China is not meeting the terms of the deal and start putting tariffs back.  The fact that the USTR remains at his post means that if our assumptions are correct, China has to be aware that when they fail to live up to their agreements, Lighthizer will inform the president.  At the same time, we doubt President Trump will want to cause a tariff problem in an election year, so expect mostly trade peace in 2020.  On the other hand, 2021 is a different matter.
One final thing on China. We do expect Beijing to make a show of compliance by purchasing lots of U.S. agricultural goods and energy.  That will reduce buying from other nations.  Thus, South America, Indonesia and Australia may be adversely affected by the deal.
Meanwhile, on the USMCA, we noted last week that the AFL-CIO supported the trade agreement.  Of our group, the oldest has been in financial services since 1986.  In that time, we can't remember American unions supporting any trade deal.  So, it was a bit of a shock to see U.S. unions in support.  Well, now we know why.  The U.S. slipped in a provision that will put U.S. officials in Mexico for the express purpose of monitoring labor conditions in Mexican firms.  Mexico isn't pleased.  It is not clear how this issue will be resolved.   That's not the only issue.  Canadian aluminum firms are not happy that they might face competition from Chinese aluminum imported into the trade bloc from Mexico.  Are any of these issues enough to scuttle the deal?  Both Canada and Mexico need the USMCA.  Sovereignty issues can make trade concessions difficult, but we do think that some sort of side arrangement on the inspectors might be enough to keep the deal on track.
China:  Adding to Friday's positive news of a limited U.S.-China trade deal, Beijing released a trove of data suggesting its modest stimulus measures may have arrested, or even partially reversed its continuing economic slowdown.  Perhaps most important, November industrial production was up a much better-than-expected 6.2% year-over-year, marking its best annual gain since June.  November retail sales rose by a better-than-expected 8.0% on the year.  Fixed asset investment in January through November matched its recent pace with a rise of 5.2% from the same period one year earlier.  The figures should be positive for global equities today.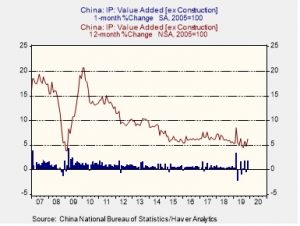 China debt:  We have been watching China's debt situation for some time and, as discussed in our 2020 Geopolitical Outlook (out this afternoon), it is one of our key concerns for next year.  Over the weekend, an odd twist emerged.  Beijing has decided to drop a huge number of criminal charges against firms in the private sector due to concerns that the arrest and prosecution of company leaders will only lead to the failure of their firms, unemployment, and of our concern, increase the odds of debt default.
"We should refrain from making arrests or prosecutions or giving harsh sentences whenever possible, because arresting or prosecuting business owners will immediately cause their firms to go under and dozens or hundreds of workers to lose their jobs," said Zhang Jun, procurator-general of the Supreme People's Procuratorate, in a televised speech last month.
We are not sure what to make of this development, other than it would seem to reflect an extraordinary level of concern among financial authorities.  The signal it sends to business leaders is that any behavior, with the possible exception of criticizing the government, is acceptable.
The U.S. consumer:  U.S. growth has become almost completely dependent on consumption.  Although wage levels improved and confidence is elevated, we note that retailers are complaining that they are being forced to discount aggressively this Christmas to move merchandise.  This development may not mean that households are struggling.  It is possible that this problem may be more about excess capacity in retailing, or the impact of online shopping.  In addition, shoppers have been "trained" to expect deep discounts and won't shop if they don't get them.  However, what the report does indicate is that retail firms are likely facing margin compression from the discounting.
United States-North Korea:  After yet another North Korean missile test on Friday, U.S. Special Envoy to North Korea Stephen Biegun criticized the provocations, but emphasized that the Trump administration is open to resuming denuclearization talks.  Meanwhile, the U.S. Center for Strategic and International Studies released imagery suggesting that North Korea may be preparing for another test of a submarine-launched missile as we approach Kim Jong Un's year-end deadline for new denuclearization talks.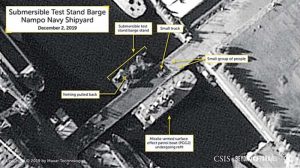 India:  The riots against India's new religion-based citizenship law, which we described in our Friday comment, continues to spread and escalate.  The protests have become especially strong on university campuses throughout the country, including Delhi, Mumbai and Hyderabad.  As yet, there is no indication the protests will become a threat to Prime Minister Modi, or Indian assets, but we are watching the situation closely.
Brazil:  Now that President Bolsonaro has managed to push through his well-received pension reform, a poll of Brazil's legislators shows 52% of them think he will also be able to push through a needed tax simplification bill in early 2020.  Brazil's tax system is among the world's most complex and burdensome, so the news should be positive for Brazilian stocks.
A pair of curious developments:  Last month, two Chinese embassy officials drove onto a U.S. military base in Norfolk, VA.  The base houses some Special Operations forces.  The two "diplomats" claimed they were lost.  They found their way back to China.  This event is unusually brazen, and underscores tensions between China and the U.S.  The other odd news item are reports from China that criminal gangs apparently became involved in the spread of the African Swine Virus in an attempt to boost hog prices.  The gangs were smuggling potentially tainted pork across provincial boundaries for profit, and the virus was apparently good for business.