Daily Comment (August 31, 2016)
by Bill O'Grady and Kaisa Stucke
[Posted: 9:30 AM EDT] Talks of a Fed hike in September are intensifying as we approach the FOMC meeting on September 20-21 and markets look to the release of the employment report as an important indication of the possible policy rate path.  Treasuries have sold off in August; the 10-year Treasury yield is up 13 bps for the month, as the chart below shows.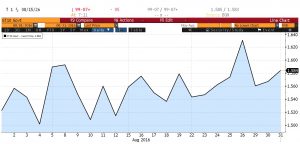 Additionally, we have seen the curve flatten, with the spread between 30-year and two-year Treasury yields at its narrowest since January 2008.  The spread is shown in the chart below.  The yield curve has historically flattened during Fed rate hike cycles, thus further flattening is likely as the Fed continues to tighten.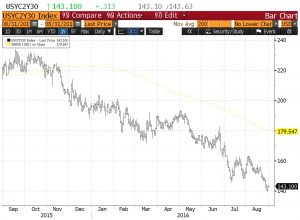 Despite BOJ Governor Kuroda's indication that the country will not use helicopter money, speculation of the controversial policy is intensifying.  Helicopter money is not currently allowed under the Japanese legal framework and the BOJ has indicated that "ample space for additional easing" remains, but growth and inflation remain low even after the central bank's implementation of QE and NIRP.  Additionally, an aide to PM Abe said that the central bank could consider foreign bond purchases as part of its asset purchase program in an attempt to weaken the yen.  This would be a way to get around the accusations of direct currency manipulation, but would be implemented for the same purpose of weakening the yen.
The Brazilian Senate is scheduled to vote on Rousseff's impeachment later today and it looks very likely that she will be ousted and VP Michel Temer will be sworn in to serve for the rest of this presidential term, which ends in 2018.