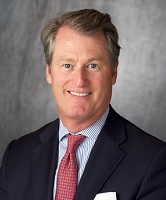 Robert Tynes serves as a marketing and client services professional for the firm's international equity strategies.
Prior to Confluence's acquisition of Gratry & Company in 2018, Robert directed marketing and business development activities at Gratry, having joined the firm in 2007. Before joining Gratry, Robert was a senior investment specialist in the Private Client Group of JPMorgan. He also worked as a product manager for Goldman Sachs Asset Management and as national accounts manager for Ibbotson Associates.
Robert earned his MBA from Loyola University of Chicago and his BS/BA in finance/economics from the University of Missouri. He is a CFA charter holder and a member of the CFA Society of St. Louis. Robert also serves as the Co-Chairman of the Emerging Manager Committee of the Money Management Institute (MMI).