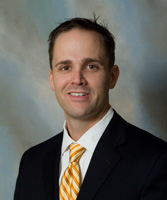 Portfolio Manager
Chris Stein performs market research as a member of the Value Equities Investment Committee and has portfolio management responsibilities for all of Confluence's value-oriented equity investment strategies. Chris, like all portfolio managers at Confluence, is also an analyst. His primary areas of coverage include the Retail, Media and Industrials sectors.
Prior to joining Confluence, Chris spent seven years as a portfolio manager and analyst with Gallatin Asset Management, the investment management arm of A.G. Edwards, Inc. While at Gallatin, Chris was part of the portfolio management team responsible for Gallatin's value-oriented equity portfolios. Additionally, he assisted the A.G. Edwards Trust Company in constructing and managing individual stock portfolios. Before joining the Asset Management division, Chris was an associate analyst covering the Media & Entertainment sector for A.G. Edwards's securities research.  Prior to A.G. Edwards, he was a financial consultant with Renaissance Financial.
Chris earned a Master of Business Administration from Saint Louis University and has undergraduate degrees in accounting and finance from the University of Dayton.